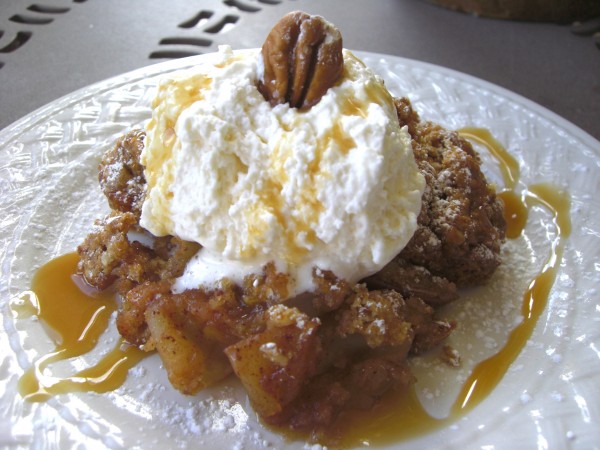 Print
Apple crisp is an all time favorite apple dessert and using Betty Crocker® oatmeal cookie mix for the topping makes this apple crisp so easy to make. The smell of the apples and cinnamon cooking in the kitchen is enough to make everyone come running.
I usually save desserts like this for my treat days over the weekend so when you want to indulge give this easy recipe a try.
Ingredients:
Filling
• 8 large Granny Smith apples, peeled, cored and chopped into 1 inch chunks
• 3 tablespoons granulated sugar
• ¼ cup packed brown sugar
• Juice of half a lemon
• 1 teaspoons ground cinnamon
• 1 tablespoon flour
Topping
• 1 pouch (1 lb 1.5 oz) Betty Crocker® oatmeal cookie mix
• 1 stick of butter softened
• 1egg beaten
• ½ cup chopped pecans or walnuts (optional)
Directions:
Preheat oven to 350°F.
Use a 9×13 glass-baking dish for a thin crisp or a smaller deep dish casserole dish for a deeper apple crisp. Spray the dish with cooking spray. Place apples in baking dish and sprinkle with all the filling ingredients. Mix well, making sure all the apples are coated.
In large bowl, stir cookie mix and butter until crumbly and then mix in the egg and nuts, if you are using them. Press filling into thin patties in your hand and place over apple mixture. I don't usually use all of the cookie mix, but you can judge for yourself. I use about ¾ of it and simply bake the left over cookie mix into a few cookies.
There is also no need to cover every inch of the apple mixture because it will spread out when it bakes.
Bake 30-40 minutes or until top is golden brown and apples are bubbling. Serve warm or at room temperature.
"Cook's Notes"
I like to serve this with some homemade whipped cream and a drizzle of store bought caramel. To see my video on how to make it, click here How To Make Whipped Cream or watch below!
Print