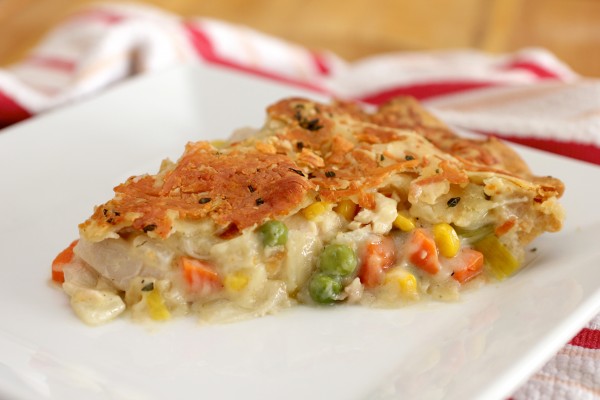 Print
Chicken Pot Pie with Herb and Cheddar Crust  is a fun way to jazz up your traditional Chicken Pot Pie. It is such a stick to your ribs comfort food that everyone just loves. Sometimes I like to jazz mine up a little and season the crust with some herbs and cheese. You can certainly leave it plain if you like. The recipe it self is very simple and only takes a few minutes to put together and pop in the oven. If you have never made a chicken pot pie before you will surely have to try this. Just follow my step-by-step photos and you will see how simple it is to make the perfect Chicken Pot Pie.
Chicken Pot Pie with Herb and Cheddar Crust
Prep Time: 25 minutes
Start to Finish: 1 hour
6 servings
Ingredients:
Crust
1box Pillsbury® refrigerated pie crusts, softened as directed on box
2 tablespoons of flour for dusting surface when rolling out dough
1 tablespoon fresh thyme
1/2 cup shredded cheddar cheese
Filling
1/3 cup butter
1/4 of a small onion, chopped
1 large carrot, chopped
1 celery stalk, chopped
Salt and pepper to taste
1/3 cup all-purpose flour
1 1/4 cups Progresso® chicken broth (from 32-oz carton)
1/2 cup milk
2 1/2 cups shredded or cubed cooked chicken
1 cup of frozen mixed vegetables of your choice
Directions:
Heat oven to 425°F.
In 2-quart saucepan, melt butter over medium heat. Add onions, carrots and celery; cook 2 minutes, stirring frequently, until tender. Season well with salt and pepper.
Stir in flour until well blended. Gradually add in chicken broth and milk, cooking and stirring until thickened.
Stir in chicken and mixed vegetables. Remove from heat.
Remove crusts from package. Place 1 piecrust in ungreased 9-inch glass pie plate. Press firmly against side and bottom.  Sprinkle 2 tablespoons of flour on a hard surface and place the second piecrust on top of flour. Sprinkle cheddar cheese and thyme all over the top of the crust. Press cheese and herb into the crust with your hands then roll and press with a rolling pin so that most of the cheese gets pressed into the dough.
Spoon the chicken mixture into the crust-lined pan. Top with second herb and cheese crust, with the cheese side up; seal edge and flute. Cut slits in several places in the top crust.
Bake 30 to 40 minutes or until crust is golden brown. Let stand 5 minutes before serving.
Cooking Tips:
If cheese begins to stick to the rolling pin, dust the pin lightly with flour.
During last 15 to 20 minutes of baking the edges of the crust can be covered with strips of foil to prevent excessive browning
A 1/2 tablespoon of dried thyme can be used in place of the fresh.
My recipe above originally appeared on BettyCrocker.com.  If you like this recipe, please share it recipe with a friend.  Just click on the cute little icons below this sentence to share these on your Facebook page, twitter page, etc. with just one click!
Print