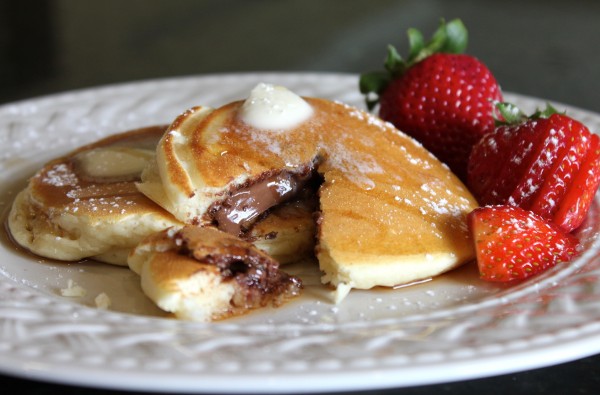 Print
Chocolate Nutella stuffed pancakes provide the ultimate breakfast surprise.
My recipe for Chocolate Nutella Stuffed or filled Pancakes is a way to get the flavor of Ebelskiver or Danish filled pancakes without the special pan. A new recipe that I have been testing out with these great pans are these delicious crepes. Can't get enough of tasty crepes? Here are 10 best crepe pans rewied on diligentchef.com, to help you choose the best ceramic, carbon steele or steele non stick crepe pan for your delicious dish! It´s the only way to make them perfectly.
I'm a sucker for a great pancake and these are so good I actually dream about them. I try to only have treats like this on the weekend because I do like to stay fit and healthy, so during the week I eat sensibly and save my sweet tooth for the weekends. These Chocolate Stuffed Pancakes are absolutely worth saving yourself for. It's a very simple concept but when the whole thing comes together on the plate with some real maple syrup and butter, Oh man is it good!
Chocolate Stuffed Pancakes
Prep Time: 10 minutes
Start to Finish: 30 minutes
Servings: 12 pancakes
Ingredients:
2 cups Original Bisquick® mix
1 cup milk 1 tablespoon sugar
1 tablespoon vanilla extract
2 teaspoons baking powder
2 eggs
Nutella Chocolate-hazelnut spread
Directions:
Heat griddle or skillet over medium high heat; grease with cooking spray.
Stir all ingredients until blended. Pour about a little less than a 1/4 cup of the pancake mix onto the hot griddle. Add a 1/2 teaspoon of the chocolate-hazelnut spread to the center of the pancake and cover with a little bit more pancake batter.
Cook until edges are dry and bubbles form on top of pancake. Turn; cook until golden brown. Serve with butter and warm maple syrup.
Cooking Tips:
These pancakes go great with fresh fruit like strawberries or raspberries.
For added flavor and crunch try topping with some chopped nuts like pecans or walnuts.
The recipe above originally appeared on BettyCrocker.com. If you like this recipe, please share it recipe with a friend.  Just click on the cute little icons below this sentence to share these on your Facebook page, twitter page, etc. with just one click!
Print