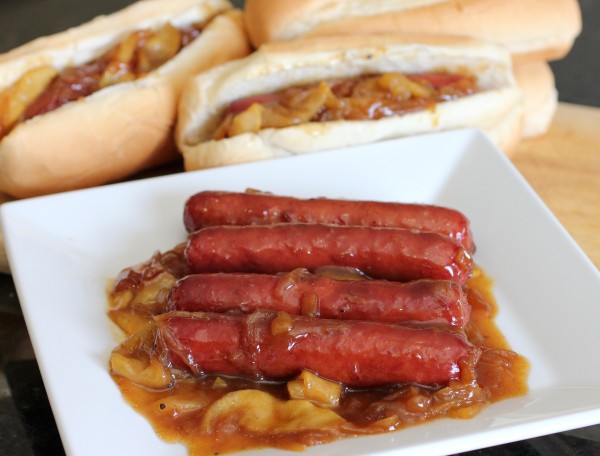 Print
No more boring brats! My sweet cider glaze with apples and onions makes them extra special.
My dad loves brats. Fresh or smoked, he is just a huge fan of them. Most of the time we grill them but there are times during the year when that just isn't possible. There is no need to go without that wonderful smoky flavor just because you can't fire up the BBQ during the fall. I brown mine up in a frying pan on the stove and they are just wonderful. These go great with a nice dark beer and are perfect for Oktoberfest.
Enjoy!
Cider Glazed Brats with Apples and Onions
Prep Time: 15 minutes
Start to Finish: 30 minutes
6 servings
Ingredients:
2 tablespoons butter
1 small onion, sliced thin
1 (14 oz) package of fully cooked smoked bratwursts, 6 links
2 cups apple cider
1 tablespoon brown sugar
1 granny smith apple, peeled, cored and julienned
Salt and pepper to taste
Directions:
Add the butter and onions to a large skillet with a good sprinkle of salt and pepper. Sauté onions over medium high heat for about 5 minutes.
Add brats, turn up heat slightly and brown on all sides (about 8 minutes). Add apple cider and brown sugar. Bring to a boil then turn down heat to a medium simmer.  Let simmer for about 5 minutes.
Remove brats and set aside on a plate, covered. Add apples to pan and cook for another 10 minutes until apples soften and sauce thickens.  Add brats back to pan with sauce and serve.
Cooking Tips:
Fresh bratwurst can also be used. Just adjust your cooking time as directed on the packaging.
Brats can be served on rolls with spicy mustard.
I originally developed this recipe for Betty Crocker.  If you like this recipe, please share it recipe with a friend.  Just click on the cute little icons below this sentence to share these on your Facebook page, twitter page, etc. with just one click!
Print