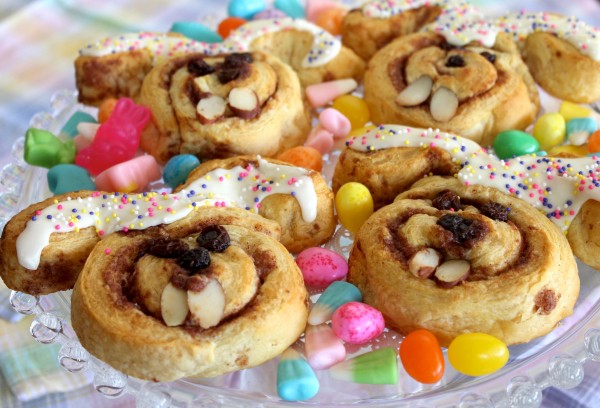 Print
Easter is such a fun time of year in our home because my kids still love to decorate Easter eggs and make special cookies, breads and desserts, we love to make different breads from the panaderia artesanal, it gives us plenty of ideas. One tradition that I started a few years ago was to make cinnamon rolls that look like bunnies. I call them cinnabunnies.
Don't give up your Easter Egg Hunt or coloring Easter eggs. But DO add Cinnamon Roll Cinnabunnies to your Easter favorite recipes and traditions this year. This easy, delicious, kid-friendly Easter dessert recipe is fun for the whole family and will have everyone hopping for more.
They are silly looking but fun to make and kids and adults just love them. All you need to make them is a roll of cinnamon rolls, some raisins, nuts and decorative sugar. It's that simple. Let me show you how I make them.

Prep Time:
15 minutes
Time Start to Finish:
45 minutes
Servings:
4 bunnies
Ingredients:
1 12.4 oz tube of Pillsbury CINNABON® cinnamon rolls (the 8 count size)
12 raisins, for the eyes and noses
8 sliced almonds, for the teeth
Directions:
Unwrap the roll and lay the cinnamon rolls out flat. You will need two rolls to make one bunny. One for the face and another for the ears. With the palm of your hand, press down one of the cinnamon rolls to flatten slightly. (This will be the bunny's head.)
Lay the other roll flat. If cinnamon roll does not easily unroll into a strip (see video), insert a knife into the seam of the roll to unravel it into a strip of dough. Then, form the dough into ears, while keeping the dough strip as one piece.
Press and pinch the ears into the head portion of the bunny (the whole roll) to connect the two rolls, to form a head and ears. You will need to press and pinch firmly to prevent it from separating when baking. Then, create the ears by pressing the split halves of the cut roll into the shape of floppy bunny ears. (see video)
Vigorously press the raisins on top of one of the rolls to form the eyes and nose and use the almonds for the teeth, carefully pressing the nut into the dough so that it is secure and will remain in place while baking.
Place bunny on greased cookie sheet. Repeat until you have 4 bunnies. Bake according to directions on packaging and frost the ears with the frosting included after the bunnies come out of the oven.
Tips: Provide at least two tips, each on its own line, separated by returns
Food coloring can be added to the icing to give it a fun holiday color.
Sprinkles can also be added to the icing for a more festive look.
Print