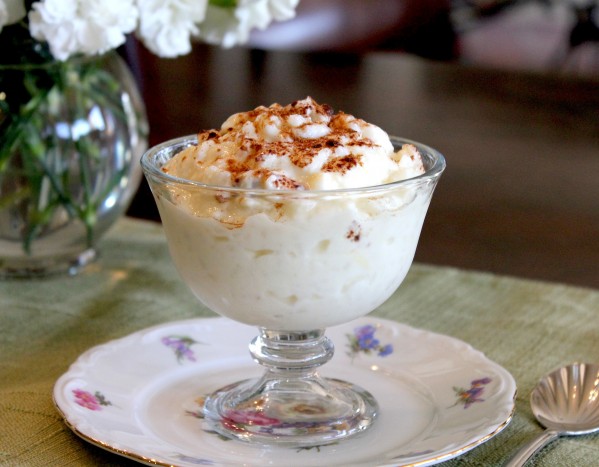 Print
This delicious rice pudding recipe is finally out of the vault. Of all of the famous and secret recipes of my Italian Family, this simple but previously secret recipe from my Aunt Rosalie has been one of the most guarded treasures. She agreed to share it with me but you can't tell anyone. OK? At almost every holiday and get together with my family, everyone looks forward to this dessert. And now you can have  it too!
This recipe is not as quick as store bought, but it'sworth every minute you'll put into it. Aunt Rosalie personally showed me how to make this and I think you'll agree its the best you've ever had. Rice pudding can be a little tricky to make but if you've ever had reallly good rice pudding, it's probably from a recipe like this. Nothing beats homemade.
Ingredients:
3 eggs, beaten
1 cup Carolina enriched extra long grain white rice
7 cups whole milk
2 cups water
3/4 cup sugar (I prefer 1 cup. Adjust to your preferences)
pinch of salt
1 teaspoon vanilla
Cinnamon for garnish
Directions:
Add sugar, rice and a pinch of salt to a large pot.
Add all of the water and 4 cups of the milk. You will add 3 more cups of milk later in the recipe.
Cook on low heat and simmer, stirring occasionally, for about 30 minutes or until rice is tender.
Add the eggs and the vanilla to the remaining 3 cups of milk and mix well. Then add the egg and milk mixture to the pot, raise the temperature and cook for an additional 2 minutes so the pudding thickens.
Allow pudding mixture to cool for a few minutes, then add to a large flat bowl or casserole. Cool completley then sprinkle with cinnamon. Or make individual cups and sprinkle cinnamon on each. Cover stored in the refrigerator.
Print