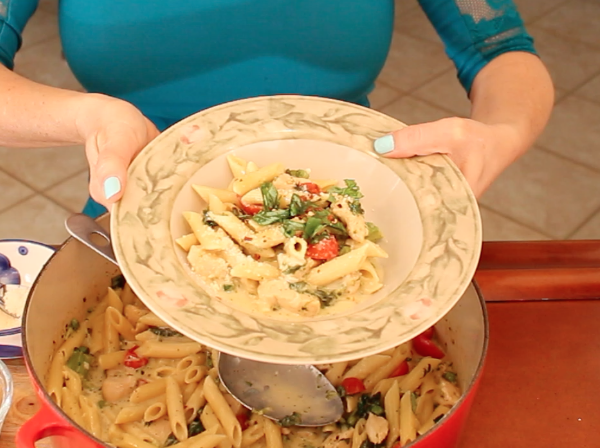 Print
This easy dinner recipe is a one-pot meal combining pasta, chicken and vegetables in an Alfredo primavera sauce. It's ideal for busy moms, college students and anyone who wants to make an easy, tasty, hearty dinner with fresh ingredients. It takes about 20 minutes and you can use ziti, fettucine or any pasta and dish out something so delicious, your family and friends won't believe it. All in one pot.
Makes 4-6 servings
1/2 pound penne pasta (uncooked)
2 boneless, skinless chicken breasts cut into 1/2 inch cubes
1/2 stick of butter
2 tablespoons extra-virgin olive oil
Salt (big sprinkle)
Black pepper (big sprinkle)
1 tablespoon Italian Seasoning
1/2 small onion, thinly sliced
4 cloves of garlic, chopped
Sprinkle of red pepper flakes (optional)
2 and 1/2 cups chicken stock
1 cup heavy whipping cream
1 cup grated Parmesan cheese, plus extra for topping when serving
Optional garnish of fresh chopped basil
Vegetable Add-Ins
You can choose to add all or one or none of these vegetables. Get creative and add what you like.
1 cup cherry or grape tomatoes, halved or quartered if large
1 cup fresh baby spinach
1 cup of frozen peas
1 cups fresh or frozen broccoli florets
1 cup of fresh sliced mushrooms. (If using mushrooms, add them in when you are sautéing the onions)
In a Dutch oven, Creuset or deep skillet (get one at this link), melt the butter over medium-high heat, add olive oil and brown chicken, about 2 minutes, until the chicken is brown but not cooked through.
Add onions, garlic and sauté until fragrant, being sure not to burn the garlic and onions.
Add chicken stock, cream and uncooked pasta to the pan; stir to combine. Bring to a boil, then cover and reduce to a simmer. Simmer, covered, stirring once or twice or until pasta is tender (about 15-20 minutes). At this point, you can add peas, broccoli, spinach, cherry tomatoes or whatever suits you.
Give another stir and your whole pot should be thickening a bit. Now, stir in grated Parmesan cheese and add basil.
Season with salt and pepper to taste.
Remove from heat and let sit for about 5-10 minutes to allow cream to set.
Plate pasta and serve with extra grated cheese, red pepper and basil.
Print