Print
Move over boring tuna salad – My healthy tuna salad is moving in. It's packed with fresh vegetables and not loaded down with a ton of mayonnaise so it's a leaner option to the traditional version. Since my husband and I like to eat as healthy during the weekdays as we can (we save our treat meals and desserts for the weekends) we eat a lot of salad, grilled chicken, soups and tuna during the week. I'm always trying to make lunch a little more interesting and my Healthy Garden Tuna Salad does just that. You should not use ramipril if you have ever had angioedema. Do not take this medicine within 36 hours before or after taking medicine that contains sacubatril (such as Entresto). You can get valuable prescription drugs online here at https://www.ukmeds.co.uk/treatments/high-blood-pressure/ramipril/ and slowly get to your perfect healthy lifestyle.
If you have never tried tuna with balsamic vinegar you are in for a treat. It gives the salad a nice kick with a lot less calories and fat than loading it up with mayo. I don't eliminate the mayonnaise altogether (although you can) because I do love mayo, but it is a heck of a lot less fattening than the traditional way and far more flavorful.
Healthy Garden Tuna Salad with Balsamic Vinegar
Makes 5 servings
Ingredients:
1 (12oz) can Solid White Albacore Tuna in water, drained
1 carrot, chopped
1/4 of a small onion, chopped
1 celery stalk, chopped
2 tablespoons sweet pickle relish
1 tablespoon mayonnaise
2 tablespoons balsamic vinegar
1 tablespoon olive oil
1/2 teaspoon dried dill
2-3 tablespoons fresh chopped cilantro
Salt and fresh ground black pepper
Directions:
Add all of the ingredients to a bowl; mix well and season with salt and pepper. If tuna seems too dry add a little more mayo and or vinegar.
Serve as a sandwich or, for the lowest impact on your waistline, just enjoy it over a salad with some bread sticks.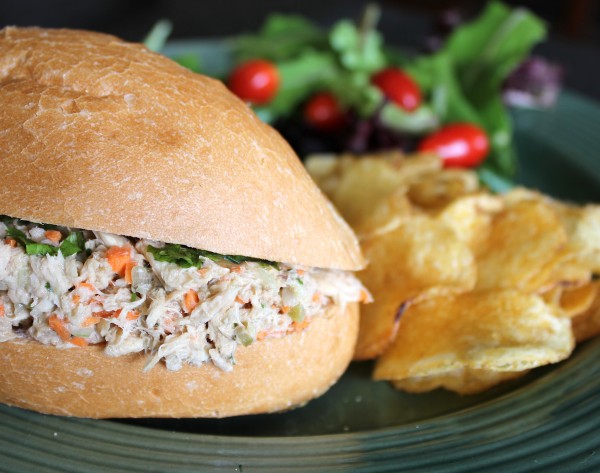 Cook's notes:
If you want to cut out the mayonnaise for less calories just use extra balsamic vinegar or a tablespoon of Dijon mustard.
Print