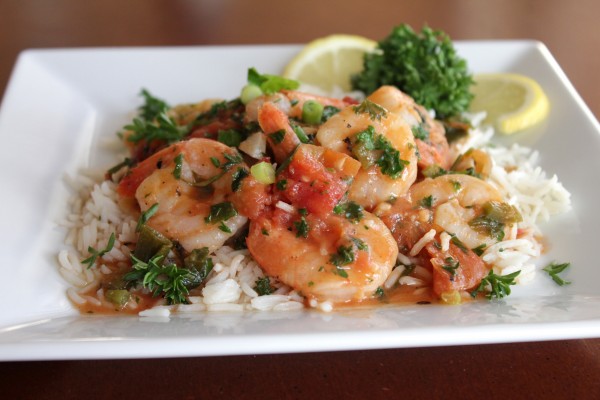 Print
The fresh flavor of Muir Glen® Tomatoes made my Spicy Shrimp Scampi recipe extra special delicious. I had the privilege of trying these tomatoes for the first time this week. I received a beautiful basket with the Limited Edition Red and Yellow Organic Tomatoes as well as the Fire Roasted variety. They are truly a special treat when you consider that they are grown organically on a farm in California and hand harvested at the peak of ripeness.
Spicy Shrimp Scampi with Organic Muir Glen® Tomatoes
Prep Time: 15 minutes
Start to Finish: 20 minutes
4 servings
Ingredients:
1 pound of shrimp, peeled deveined tail on
2 tablespoons olive oil
2 tablespoons of butter
6 cloves of garlic, chopped
1/2 cup white wine
1 (14.5 oz) Muir Glen® organic red and yellow diced tomatoes or the Muir Glen® organic fire roasted diced tomatoes, undrained
1 jalapeno pepper seeded and chopped or 1 teaspoon red pepper flakes
Juice of 1 lemon
1 tablespoon fresh basil, chopped
2 tablespoons fresh parsley, chopped
1/4 cup Progresso® Italian Style Panko Bread Crumbs
Directions:
Place the shrimp in a bowl and season well with salt and pepper. Set aside.
In a large skillet over medium-high heat add the olive oil, the butter and the garlic, sauté for 2-3 minutes. Add the wine to the pan and let it cook for a minute or two. Then add the tomatoes, the jalapeno (or red pepper flakes). Season the sauce with salt and pepper and let it simmer for 2-3 minutes.
Add the shrimp to the pan and cook until they turn pink, about 2 to 3 minutes.  Add the lemon juice, parley and basil and give everything a gentle stir. Top with the breadcrumbs and remove from stove.
Serve immediately over rice or pasta.
Cooking Tips:
Chicken stock can be used in place of the wine.
A few chopped green onions make a nice addition to this recipe.
Muir Glen® Was kind enough to send me this beautiful basket of tomatoes to try. I have to tell you that I absolutely loved the flavor. I can't wait to try some of my other recipes and use these tomatoes. You can see in the photo how lovly the color looks. It reminded me of the tomatoes we used to jar with my family when I was a kid. They look like they truley are picked at perfection and preserved. What a treat!
Print