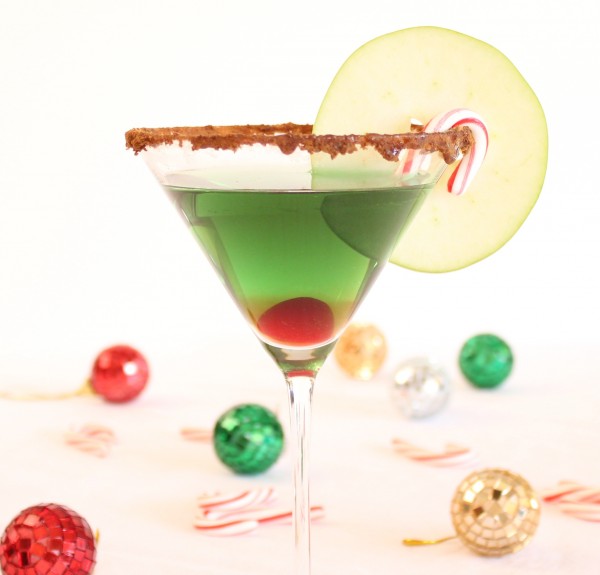 Print
This holiday cocktail recipe is a twist I came up with for the traditional Sour Apple Martini.  I call it the Cinnamon Caramel Apple Martini.
I love making these drinks during the holidays. The sweet taste of the caramel goes so well with the tartness of the sour apple and the smooth taste of the Buttershots. This pretty drink is perfect for holiday parties. You can sugar coat the glasses in advance and just have them waiting in the freezer. You can also use a large shaker and make two or three at a time. I guarantee your guests will be impressed when you serve up these beautiful cocktails.
Ingredients:
• 1 oz Buttershots Schnapps
• 2 oz vodka
• 1 oz Rose's Sour Apple Mix
• Maraschino cherry
• Cinnamon
• Brown sugar
• Caramel syrup
• Candy cane and fresh apple slice for garnish
Directions:
Sprinkle some brown sugar and cinnamon on a small plate. Pour caramel syrup on top of the sugar mixture in a circle. Dip the rim of a martini glass in the mixture and spin back and forth and all around until the whole rim is coated. Place the glass in the freezer until ready to use.
In a shaker with ice, add the Buttershots, the vodka and the sour apple mix. Shake for a minute. Remove glass from freezer. Place one maraschino cherry in the bottom of the glass. Pour mix from shaker into glass. Garnish with a Candy Cane and an apple slice.
Notes: If you prefer a drink that packs less of a punch you can always cut the vodka in half.
.
Print