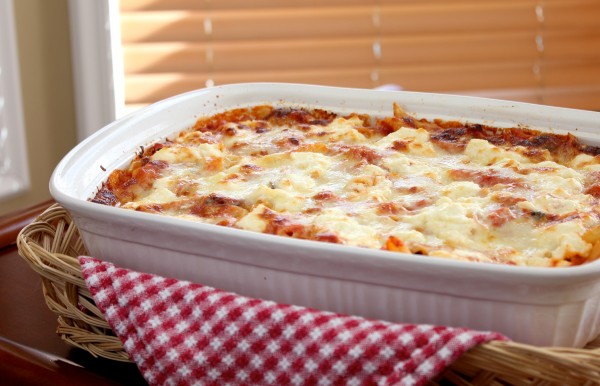 Print
In my mind, Italian food is synonymous with comfort food. I mean when I think of a fill-your-belly-and-soul sort of meal, I think of "pasta", "macaroni", or whatever you want to call it, but it makes me happy. One of my favorite Italian comfort foods is what my family calls Baked Macaroni.
My grandmother made this dish and she taught my mom and now my mom has passed it on to me. It has everything I love in a pasta dish and reminds me of being a kid again. It's super easy and you can, as with most of the food I make, customize it with add-ins like sautéed mushrooms, ground beef or by making your own home made sauce. Italian food for the most part is simple peasant food – simple food that is for the most part easy to prepare.
I think "unpretentious and tasty" describes this dish to a tee. It starts with 5 simple ingredients and ends with a bubbling casserole the whole family will love.
Ingredients:
1 pound of short macaroni like (penne, ziti, rotini, or rigatoni) cooked in heavily salted water 3 minutes less than recommend on the packaging, and drained.
4 cups marinara sauce (homemade or store bought) – Click here for homemade marina recipe
1 (15 oz) container of ricotta cheese
2 cups shredded mozzarella cheese
1/2 cup grated Parmesan or Romano cheese
Grating the cheese is something I like to do but on the days I want to save time I buy it already grated. I also like to undercook the pasta so that it's still firm because when you bake it, the pasta will continue to cook. For that reason, I don't want the pasta to get too soft or too mushy when it bakes. I find that cooking the macaroni 3 minutes less than recommended on the packaging works well but this is just my preference. You can always cook your macaroni the way you like it.
Instructions:
Preheat oven to oven to 350°F
Lightly spray a 9 x 13 inch casserole dish with cooking spray. Add about 2 cups of marinara sauce to the dish. Pour in half of the pasta and toss well. Sprinkle with half of the grated cheese, then dollop 1/2 of the ricotta cheese on top of the macaroni. Sprinkle with 1/2 of the shredded mozzarella then repeat the steps by adding the rest of the pasta and the other ingredients, ending with a topping of sprinkled mozzarella.
Cover lightly with aluminum foil, making sure the foil is not resting on the cheese and bake in the oven for 35 minutes. Then remove foil and bake uncovered for another 10 – 15 minutes until center is warm and bubbling.
Remove from oven and let cool 10 -15 minutes before serving.
Once I layer in half the pasta with some sauce, I then add some grated cheese, dollop on the ricotta and then top with some shredded mozzarella and then repeat.
I think if you try this dish your family will love it just like my family has for generations.
Cook's Tips:
Cooking the macaroni a few minutes less than recommended on the packaging helps to keep it from getting too soft when it bakes in the oven.
Sautéed mushrooms or browned ground beef go well in this dish too.
Print