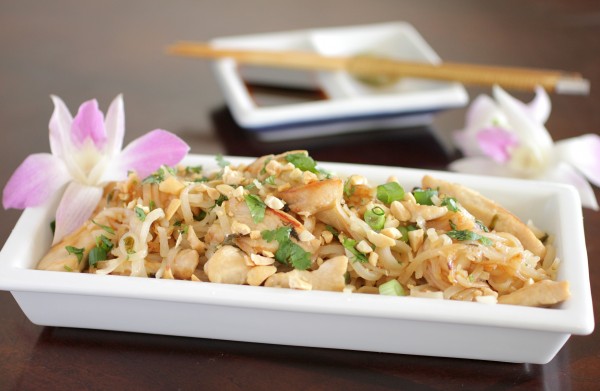 Print
My family and I just love Thai food. The spices and rich depth of flavor is so delicious. I started cooking Thai recipes last year when I realized we were spending a fortune to go out to dinner so often to enjoy these dishes. Once I realized how easy it was to find the ingredients I need to make simple Thai recipes I started experimenting with it.
Chicken Pad Thai
Prep Time: 20 minutes
Start to Finish: 20 minutes
6 servings
Ingredients:
Noodles
1 (8 ounce) package rice noodles
4 tablespoons peanut oil, stir fry oil or canola oil
3 cloves garlic, chopped
4 green onions, chopped
1 pound boneless, skinless chicken breast, cut into bite size pieces
2 tablespoons soy sauce
2 eggs
Sauce
Juice of 1 lime
3 tablespoons rice vinegar
3 tablespoons fish sauce
4 tablespoons white sugar
Crushed red pepper flakes to taste
Garnish
1/3 cup crushed peanuts
1/4 cup chopped cilantro
1 lime, cut into wedges (optional)
Directions:
Soak rice noodles in a large bowl of boiling water for about 10 minutes, or until soft. Drain, and then set aside.
In a small bowl, mix all the ingredients for the sauce and set aside.
Heat 2 tablespoons of oil in a wok or large heavy skillet over medium high heat. Add garlic and green onion. Sauté for a minute or two, making sure to not burn the garlic. Add the chicken and soy sauce and stir fry until browned.  Remove the chicken, and set aside. Heat the remaining oil in the wok over medium high heat and add the eggs and scramble until firm. Add the chicken, the softened noodles, and the sauce. Sauté everything for 2-3 minutes, add bean sprouts, and cook for another minute or two. If dish seems dry add a 1/4 cup of water. And I love my new vacuum sealer that I got last week, found good foodsaver reviews from http://vacuumsealerresearch.com/
Garnish with cilantro, toasted peanuts, and a wedge
Cooking Tips:
Shrimp, pork or beef can be substituted for the chicken.
A lime cut into wedges, and a carrot cut into thin matchsticks makes a nice garnish.
Print