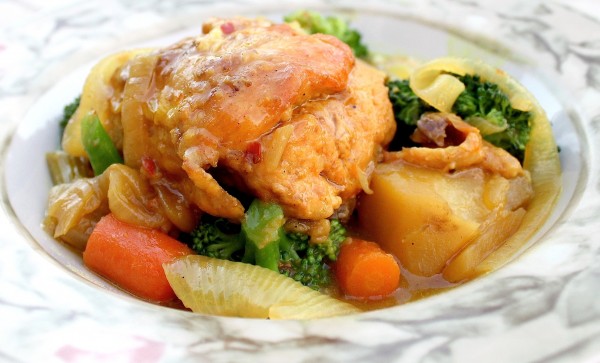 Print
Indian Chicken Curry is a recipe I made up after having something similar in Miami. This Indian curry recipe has a bunch of ingredients but they all get tossed into the crock-pot or slow cooker, so it's super easy to make. The flavors are intoxicating together so if you have never tried Indian Curry you have to trust me and try this one.
I love the taste of curry but never really make Indian style dishes at home. I cook a lot of Thai curry but Indian Curry Chicken isn't something I usually make. I recently visited Miami and went to an amazing outdoor art exhibit called the Wynwood Walls. Artists from all over the world have painted these giant outdoor walls in sort of a graffiti style. It's a great place to stroll through and admire all of the artwork. Among the walls is a restaurant called the Wynwood Kitchen & Bar. It's a place where many young and hip artists types like to meet for drinks and a nibble.
The menu is very eclectic and the food was tasty but nothing earth shattering.  I did however enjoy a clay pot curry chicken dish that inspired me to try my own take on it at home in my crock-pot.  So this is my Indian Inspired Crock Pot Curry Chicken.  It turned out so delicious. My husband loved it so much he told me he would marry me all over again. My kids even enjoyed it. There may be a bunch of ingredients you don't have handy but they are easy to find in the store. It also might seem like there are a ton of ingredients in this dish but it's actually a one pot meal so once you get it all in the slow cooker you are done.
Ingredients:
1 whole fryer chicken cut into pieces
3 tablespoon vegetable oil
1/3 cup of flour
2 potatoes cut in large cubes
3 celery stalks, chopped
4 carrots, roughly chopped
2 onions, sliced
6 cloves of garlic, chopped
2 tablespoons of butter
2-3 teaspoons of yellow curry
1 teaspoon coriander
1 teaspoon cumin
1 teaspoon turmeric powder
1/2 teaspoon of ginger
1 (13 oz) can of coconut milk (not cream of coco)
1 (15 oz) jar of Mango, Apricot or Peach Preserve (your choice)
1 envelope of Onion Gravy mix or onion soup mix
Salt and fresh ground black pepper
 Directions:
Season the chicken on both sides with salt and pepper. Then dredge lightly in flour.
Add oil to frying pan and brown chicken on both sides in batches. There is no need to cook completely. It will finish cooking in the crock-pot.
Add the butter and all the vegetables to the crock-pot. Top with the chicken, spices, preserve and coconut milk.
Cover and cook on high for 3 hours or on low for 5-6 hours.
Serve over rice with some chopped fresh cilantro as a garnish.
Cook's Notes:
If you like it spicy you can add some red pepper flakes or fresh chopped chilies.
I sometimes add two cubed potatoes to this recipe. Be sure to cut them in large pieces so they will hold up during the cooking time.
I like to also steam some broccoli and serve it on the side with this dish.
Print