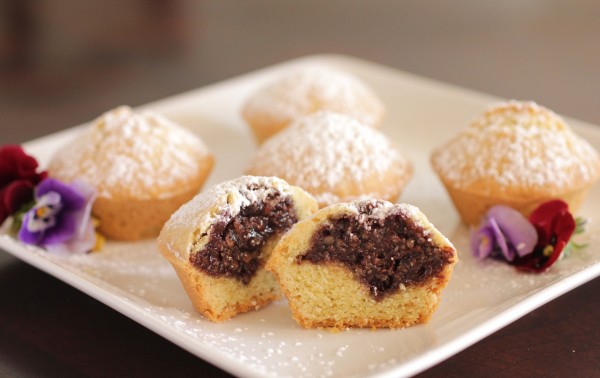 Print
Italian Bocconotti cookies can be found in southern Italy and are made a little different depending on where you eat them. They are pretty popular at Christmas time but actually perfect for any time of the year.
They can be made coved with dough or left open like little pies. They can also be filled with jam and nuts or even Nutella works nicely. Any way you make them these "small bite" cookies are a treat.
They are traditionally made in individual mini baking cups, but can also be made in a mini cup cake pan if you don't have the individual cups.
Italian Bocconotti Cookies with Chocolate, Jam and Nut filling
Prep Time: 30 minutes
Start to Finish: 1 hour  20 minutes
Servings: 12-16 cookies depending on the size
For Dough
1 1/2 cups flour
1/3 cup sugar
1 stick of butter
1 whole egg + 2 egg yolks
1/3 teaspoon baking soda
Zest of 1 lemon
For Filling
1/4 cup of jam (cherry, grape or strawberry work well)
1/4 cup ground almonds
2 oz semi sweet bakers chocolate, very finely chopped
Garnish
Confectioners sugar for dusting
Directions:
Pre-heat oven to 350°F
Combine all the dough ingredients into a large bowl; cut in the butter with a pastry blender or fork until mixture comes together and begins to form a wet dough.  (Dough can also be made in an electric mixer fitted with a dough hook.)
Gather dough together and shape into a ball with your hands. Wrap dough ball in plastic food wrap and refrigerate while you make the filling.
In a small bowl mix together the jam, chocolate and ground nuts, until combined well.
Take about a teaspoon of dough, with floured hands roll into a ball then flatten into a circle, press dough onto the bottom and up the sides of an ungreased mini muffin cup or individual mini tart cup.
Add a half  teaspoon of filling to the cup. Top with another circle of flattened dough and seal to close.
Bake at 350°F for about 20 minutes or until lightly browned. (If using the individual cups place them on a cookie sheet for baking)
Let cookies cool for 2-3minutes, remove cookies from cups and sprinkle with powdered sugar.
Cooking Tips:
The filling for these cookies can vary so feel free to get creative. You can add different flavors of jam or marmalade.
Cinnamon is also used in some regions of Italy in this type of cookie and can be added to the dough.
Print