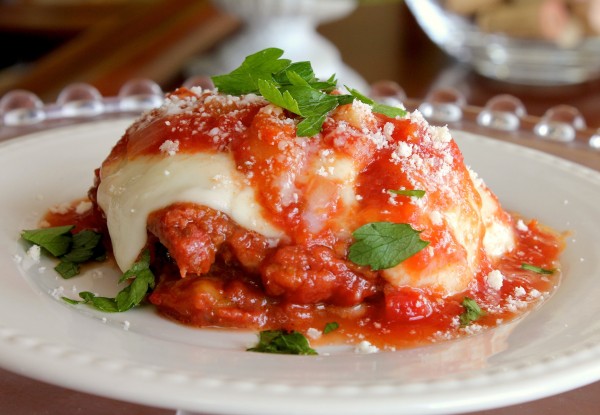 Print
Italian Eggplant Parmesan is a dish that I have been making with my family since I was a little girl. It's a simple Italian dish that my mother and my grandmother taught me how to make. The crunchy eggplant combined with homemade marinara sauce and melted mozzarella cheese is just a magical combination.
Although this recipe takes some time to make it is well worth the Ohhs and Ahhs you will get from your family and friends when you serve it. So the next time you are at the market pick up some eggplant and surprise your family with this amazing Italian treat.
Serves approximately 12-15 people
Ingredients
2 large eggplants
4 large eggs, beaten
4 tablespoons of milk
2 cups flour
2 cups seasoned breadcrumbs
1/2 cup grated Parmesan cheese
3 cups mozzarella, shredded
Salt and pepper
4 cups basic marinara sauce, (click for my marinara sauce recipe)
Small bunch of chopped fresh basil as garnish
1 cup vegetable oil for frying (you may need more)
Directions
Preheat the oven to 350 degrees F. Peel the eggplant and slice into 1/2 inch slices.
Lightly season each disk with salt and pepper and place in a large bowl or strainer and cover with a paper towel.
In a shallow bowl, beat the eggs with the milk. Spread the breadcrumbs in a separate shallow bowl, and the flour in a third shallow bowl.
Dip a slice of eggplant in the flour then the egg mixture and then in the breadcrumbs being sure to coat well with each step. Set aside on a baking tray. Repeat until all the eggplant is coated. Place vegetable oil in a 10-inch frying pan and heat oil over medium high heat until oil is hot enough for frying. About 2-3 minutes.
Fry a few pieces of eggplant at a time placing the fried pieces on a separate plate covered with a layer of paper towels to absorb excess grease. Once all the eggplant is fried you can begin to assemble it. In a large rimmed baking dish add a thin layer of sauce.
Place one slice of fried eggplant on the bottom of the baking dish in a single layer making sure you don't over lap the pieces. Place about a tablespoon of shredded mozzarella on top of each slice.
Sprinkle each piece with some grated Parmesan cheese. Top each piece with another eggplant slice and some marinara sauce.
Add another sprinkle of Parmesan cheese and cover with foil and bake for about 30 minutes. Remove from over and add more shredded mozzarella cheese on top of each of the eggplant pieces. Place back in the oven uncovered and bake until cheese is melted and browned slightly. Remove from oven and allow the dish to cool for a few minutes before serving. Garnish with fresh chopped basil.
Please be sure and share this recipe on Pintrest and Facebook so we can spread some kitchen love.
Print