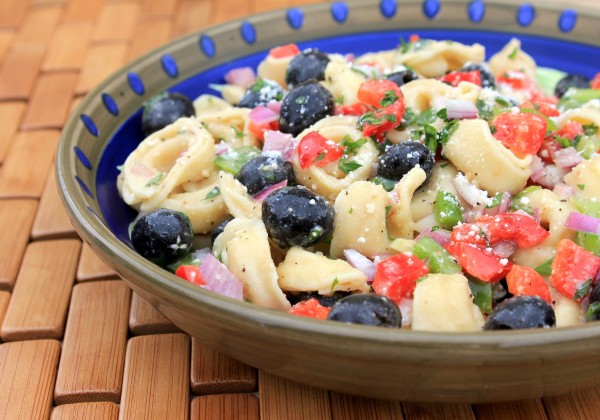 Print
Pasta salad is the perfect dish to bring to a potluck dinner or an outdoor BBQ. My mother in law's recipe is always a hit.
My mother-in-law Judie was a great cook. She was famous for making simple and delicious home-cooked meals like pot roast, chicken and dumplings and meatloaf, but one of her "Almost Famous" dishes that she would make for most potluck dinners, pool parties and luncheons was her Tortellini Pasta Salad. It's a simple dish that uses store-bought Caesar salad dressing so it can be made in no time at all.
Judie's Tortellini Salad
Prep Time: 15 minutes
Start to Finish: 20 minutes
Servings: 10
Ingredients:
1 pound of frozen tortellini, cooked
1 teaspoon olive oil
1/2 cup red onion, diced
1/2 cup green bell pepper, diced
1/2 cup red bell pepper, diced
1/4 cup fresh chopped parsley
1/4 cup parmesan cheese
1/2 cup bottled Caesar salad dressing of your choice
1 can (6oz) of whole small black pitted olives, drained
Salt and fresh ground black pepper
Directions:
Add cooked, tortellini to a large bowl and toss with olive oil.
Add all the vegetables, parsley, cheese, and Caesar salad dressing, toss again. Add olives salt and pepper and toss lightly once more.
Cover and refrigerate for at least one hour or overnight.
Toss well before serving.
Cooking Tips:
Be sure to not over cook the pasta. It is best when cooked al dente.
Pasta salad can be made a day or two in advance and stored in the refrigerator.
If salad seems too dry when ready to serve simply add more salad dressing and toss before serving.
The recipe above originally appeared on BettyCrocker.com.  If you like this recipe, please share it recipe with a friend.  Just click on the cute little icons below this sentence to share these on your Facebook page, twitter page, etc. with just one click!
Print