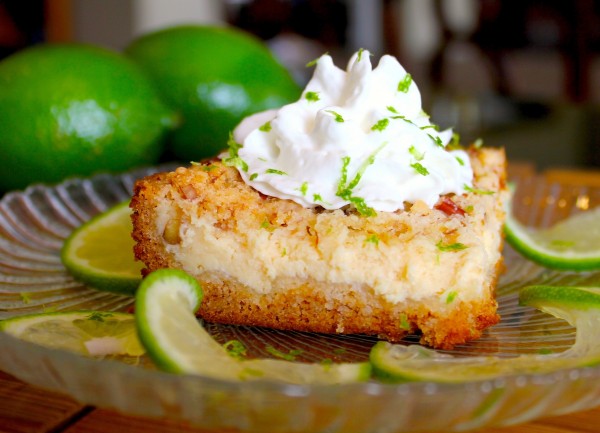 Print
Do you love the taste of Key Lime Pie? Well then you will go crazy over my Key Lime Cream Cheese Crumble Cake. I make one like this in the fall with pumpkin but this one is my summer version.
Key limes are extremely popular here in South Florida. For me, the tart, distinctive taste screams warm breezes, sunshine and feet in the sand. My family and I only live about 3 hours north of Key West so now and then we drive down to the Keys and enjoy the sunshine and slow pace of things, and of course, Key Lime Pie.
Key Lime Cream Cheese Crumble Cake
Prep Time: 15 minutes
Start to Finish: 1 hour
Servings: 12 pieces
Ingredients:
For base:
1 (18.25 ounce) Box Betty Crocker® Supermoist® Vanilla Cake Mix
1/2 cup butter, melted
1 egg
For filling:
1 (14 oz) can sweetened condensed milk
1 (8 oz) bar of cream cheese softened
2 egg, yolks
3/4 cup key lime juice
For topping:
1 cup of dry cake mix
3 tablespoons butter, softened
1 cup chopped pecans, walnuts or both
Powdered sugar for dusting
Directions:
Preheat oven to 350 degrees. Spray a 9×13 pan with cooking spray.
Remove 1 cup of cake mix from the cake mix box and set aside in a small bowl for the topping.
In a large bowl combine the remaining cake mix with 1 egg and a 1/2-cup melted butter. Mix well, and pat into bottom of the 9×13 greased pan. Set aside
In a mixing bowl with electric mixer, mix together the sweetened condensed milk, cream cheese, egg yolks, and key lime juice until smooth. Pour filling over base mix in pan.
With a fork, combine your reserved cup of cake mix with nuts and softened butter. Crumble over key lime filling.
Bake in preheated oven for about 45 minutes or until golden brown.  Let cool for at least 20 minutes, then cut in squares and sprinkle with powdered sugar before serving.
Cooking Tips:
This dessert can be made a day or two before a party and stored in the refrigerator.
Slicing with a plastic disposable knife causes less crumbling.
My recipe above originally appeared on BettyCrocker.com.  If you like this recipe, please share it recipe with a friend.  Just click on the cute little icons below this sentence to share these on your Facebook page, twitter page, etc. with just one click!
Print