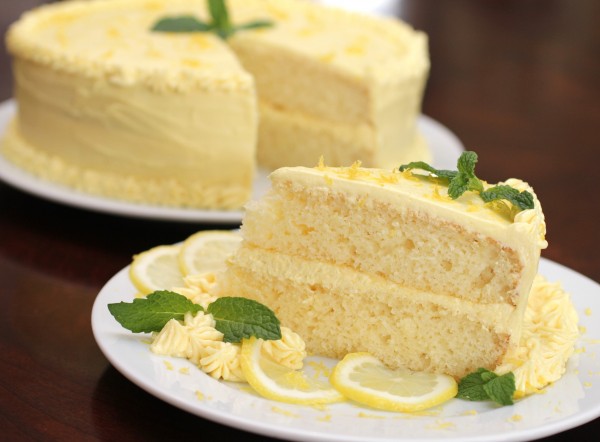 Print
My Luscious Lemonade Cake is perfect for your Labor Day BBQ this weekend. The lemonade butter cream makes it extra special. I used Country Time powder but you can use any brand.
Have you ever made a dessert that everyone loved and was an instant hit? Well if you make this cake I am sure it will be a new family favorite. How can you go wrong with the great taste of lemonade in a cake? I served it this past Sunday at our family dinner and there wasn't a crumb left over. Even my son who isn't a big lemon fan loves it. It's super simple to make and looks so beautiful.
If you try it, be sure to let me know how you like it.
Enjoy!
Luscious Lemonade Cake
Prep Time: 10 minutes
Start to Finish: 1 hour 30 minutes
Servings: 10
For cake
1 box Betty Crocker® SuperMoist® Vanilla cake mix, water, vegetable oil and eggs called for on box
1/2 cup powder lemonade drink mix like COUNTRY TIME
For frosting
3 cups confectioners' sugar
1 cup butter
1 tablespoon vanilla extract
1/2 cup powder lemonade drink mix
4 tablespoons heavy whipping cream
Yellow food coloring (optional)
Directions:
Prepare cake mix according to directions on box, add the powdered lemonade mix and mix well. Divide cake batter evenly among two round 9-inch greased cake pans and bake according to direction on box.
With an electric mixer cream together sugar, butter, vanilla, lemonade mix, heavy whipping cream and food coloring (if using). Mix on low speed until well blended and then increase speed to medium and beat for 2-3 minutes until frosting is fluffy. If mixture seems too thick add a little more cream.
Cool Cake Completely before frosting.
Cooking Tips:
Zest of one lemon can be added to the top of the finished frosted cake for extra flavor and color.
Fresh mint leaves make a pretty garnish.
Yellow cake mix can also be used in place of the vanilla.
Refrigerate Cake until 20 minutes before serving.
I developed the recipe above and it appeared first on BettyCrocker.com.  If you like this recipe, please share it recipe with a friend.  Just click on the cute little icons below this sentence to share these on your Facebook page, twitter page, etc. with just one click!
Print