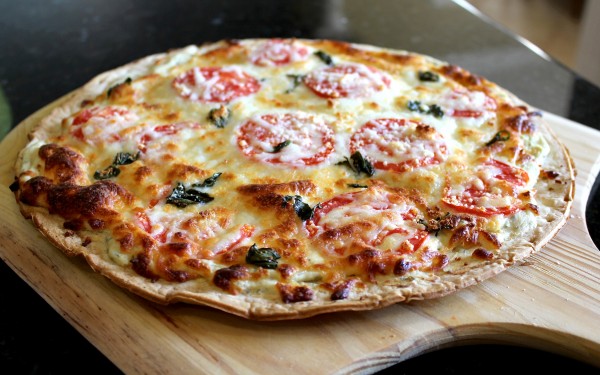 Print
This White Pizza Recipe is the perfect way to get your kids cooking in the kitchen with you and loving it.  PHILADEPHIA makes a great new product called Philly Cooking Crème and it is the perfect ingredient to add to a simple pasta or chicken dish to make something ordinary taste great.   In this case, we used it to make a yummy pizza.
My daughter is a typical teenager-on-the-go all the time, but she shares my love for food and cooking. When she is in the kitchen, she is always looking for simple ways to make breakfast and lunches.
I suggested she try making White Pizza with Philadelphia's new Philly cooking crème. We have tried it in pasta and chicken dishes and it works great, but kids love pizza and I thought this would be the perfect recipe for her to make.  I was right.
She started with PHILADELPHIA Cream Cheese Cooking Crème in the Italian Herb Flavor, and a "thin crust" store-bought ready-made pizza crust.
She brushed the dough with a little olive oil, and then spread the crème onto the dough.
Then, she topped the dough with some shredded Parmesan cheese, a sliced tomato and some chopped fresh basil. She topped the whole thing with some grated Parmesan cheese and popped it into the oven until it was golden brown.
The end result was a dreamy thin crust white pizza that we all devoured.
This was such a simple recipe and it made a great light lunch with a salad.
Next time, she plans on using some chicken or mushrooms or just letting her imagination run wild. If you have never tried PHILADELPHIA Cooking Crème, we both recommend it!  It's simple and so versatile. It's the perfect way to get the kids cooking in the kitchen like a gourmet chef.
Print