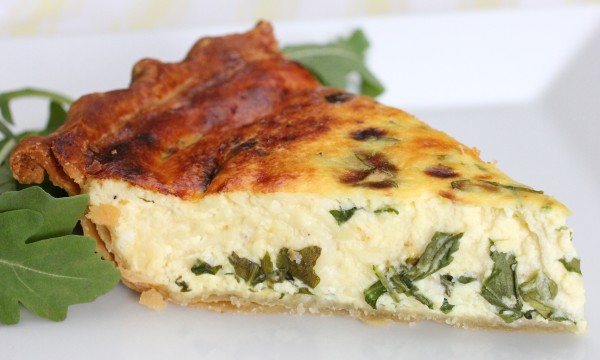 Print
Well it's St. Patricks Day so I thought why not do something green. My Ricotta and Arugula Quiche isn't exactly an Irish dish but it is green and oh so yummy. You can use spinach in place of the ricotta if you like but either way it's simple and perfect for any time of day. Enjoy this and let me know how you like it.
Ricotta and Arugula Quiche
Prep Time: 10 minutes
Start to Finish: 1 hour
8 servings
Ingredients:
1 box Pillsbury® refrigerated pie crusts, softened as directed on box
1 cup half and half
5 eggs
1 cup whole milk ricotta cheese
1 cup fresh arugula, coarsely chopped (or baby spinach)
2 cups shredded Italian cheese mix or shredded mozzarella
Salt and fresh ground black pepper to taste
Directions:
Heat oven to 375°F. Unroll crust into an ungreased 9-inch glass pie plate. Press crust firmly against side and bottom. Fold excess crust under and flute. Prick bottom and side of crust with fork. Bake about 8 minutes or until very lightly browned.
In medium bowl, beat eggs, half and half, ricotta and salt and pepper with wire whisk or fork until well blended.
Layer the arugula and cheese in alternate layers into the piecrust. Pour egg mixture over layers of arugula and cheese.
Bake 40 to 50 minutes or until knife inserted in center comes out clean
Let stand 5 minutes before serving. Cut into wedges.
Cooking Tips:
Spinach or broccoli can be used to replace the arugula.
Three to four slices of chopped prosciutto can also be added if you like meat in your quiche.
Quiche can be served warm or cold.
Print