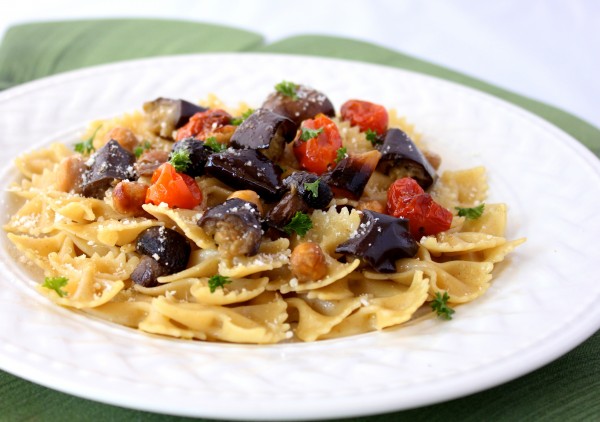 Print
Roasted eggplant and chickpeas taste so great together.  It can be served as a side dish or over rice or pasta as a main dish. It's a great vegetarian recipe that also makes for a wonderful appetizer over crusty bread.
See my "Cook's Notes" below for suggestions and tips:
Ingredients:
1 pt cherry tomatoes
6 cloves of garlic, crushed
8 oz container of mushrooms cut in half (optional)
1 eggplant, seeded and cut into 2 inch cubes
1 15oz can of chickpeas, drained (I prefer Progresso)
1 onion, cut into large cubes
1 teaspoon dried oregano
2-3 tablespoons, olive oil
Salt and pepper
Sugar
Grated Romano or Parmesan cheese
Directions:
Preheat oven to 425 degrees.
Spray a rimmed cookie sheet with cooking spray and then add all the ingredients. Sprinkle with about 2 -3 tablespoons of olive oil and the oregano. Season well with salt, pepper and a sprinkle of the sugar, toss well.
Place on the second highest rack in the oven and roast for about 45 minutes or until vegetables are soft and golden brown. Give it a stir once or twice while it is cooking to rotate the vegetables and prevent them from sticking.
"Cook's Notes"
If you serve this dish over pasta, add a ladle or two of pasta water to the cookie sheet to create a light sauce then pour over pasta and drizzle with some extra olive oil and sprinkle of Parmesan cheese.
Print