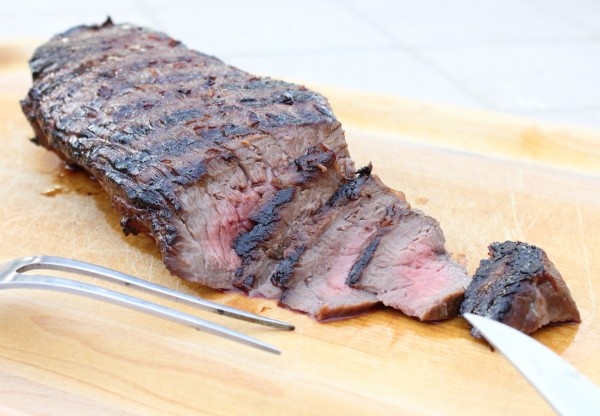 Print
I'm a steak lover and London Broil is one of my favorite cuts of beef. It's a lean and fairly inexpensive meat that is so easy to prepare. We don't eat a lot of meat in my house but every now and then I gotta have some beef.
I usually buy two at a time and place them each in separate freezer bags with the marinade and freeze them. On the day I want to cook one of them for dinner, I pull one out of the freezer that morning and let in defrost. While it defrosts, it sits in the marinade and absorbs the entire flavor of the marinade.
This gives me a juicy flavorful meat that is in my freezer and ready to go for those nights that I need a quick meal.  See my Cook's Notes for additional ideas.
To get started, simply season your meat and place it in the bag with the marinade.
Then, once it has marinated, it's ready to grill . . .
After it rests, it's ready to slice and serve.
Simple Marinated London Broil Recipe
One 2-3 pound London Broil
1/4 cup teriyaki sauce
Juice of 1 lemon
1/3 cup live oil
4 cloves of garlic, chopped
1 tablespoon brown sugar
Seasoned salt and fresh ground black pepper
Season both sides of the steak with seasoned salt, pepper and crushed garlic. Place in a plastic bag with the teriyaki, lemon juice, olive oil and brown sugar. Seal bag and give it a good mix. Marinade meat for 6-24 hours. Remove meat from refrigerator for 30 minutes or more before cooking and then grill or broil in oven to desired temperature. It's best to not put ice-cold meat on the grill or under the broiler. It will cook better if you start cooking it when it is closer to room temperature. To get a better result, Pellet grills combine the convenience of a gas furnace replacement and a wood smoker. Read more: http://onlytopreviews.com/pellet-grill-reviews/ so you can get one and have better tasting food.
I usually cook a 1 inch thick piece of meat 8-10 minutes on each side. A meat thermometer inserted into the thickest part of the meat will tell you how well it is cooked. 145°F for rare, 160°F for medium and 175°F for well done.  Well done meat can be very tough, so be sure not to over cook it. Keep in mind it will continue cooking slightly when removed from the heat so you may want to slightly undercook to your desired temperature and let it rest.  Allow the steak to rest for 5-15 minutes before slicing so it maintains its juices. Cut the steak in thin slices across the grain and serve.
This is so easy you should always have one in the freezer ready to go.
Cook's Notes:
For an added kick, I sometime mix some fresh chopped cilantro with some softened butter and let it melt on top of the steak before I slice it and serve it. This gives it a great fresh flavor.
Print