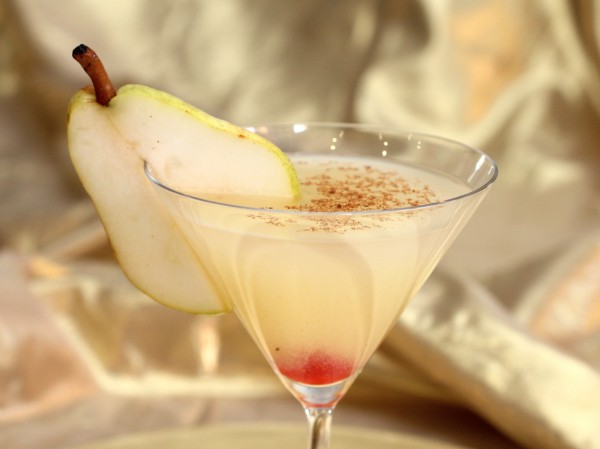 Print
Entertaining during the holidays can be challenging so when I have a cocktail party I like to do drinks that are simple but elegant. My Spiced Pear Martini is all of the above. It's perfect for ringing in the new year.
This recipe is super simple but makes such a great presentation. The spiced touch of the cinnamon and nutmeg blend well with the richness of the pear nectar. If you are having a New Year's Eve Party be sure to give this simple cocktail a try and let me know how you like it. Happy New Year and God Bless.
Elegant Spiced Pear Martini
Prep Time: 5 minutes
Start to Finish: 5 minutes
1 servings
Ingredients:
2 oz vanilla vodka (pick your favorite brand)
2 oz pear nectar
Sprinkle of cinnamon
Sprinkle of nutmeg
1 maraschino cherry
1 slice of fresh pear (optional)
Directions:
In a shaker with ice, add the vodka and the pear nectar. Shake for a minute. Place one maraschino cherry in the bottom of the glass.
Strain mix from shaker into glass and sprinkle with cinnamon and nutmeg. Garnish side of glass with fresh pear slice.
Cooking Tips:
This recipe can easily be doubled or tripled to make more than one serving.
Whipped cream flavored vodka works well with this recipe as well.
If you don't have a martini shaker you can certainly just use a pitcher with ice or just use two cups of different diameters placed open end to open end to make a mock shaker.
A little lemon juice squeezed over the sliced pears will prevent them from browning if you slice them in advance.
I originally developed this recipe for BettyCrocker.com. If you like this recipe, please share it recipe with a friend.  Just click on the cute little icons below this sentence to share these on your Facebook page, twitter page, etc. with just one click!
Print