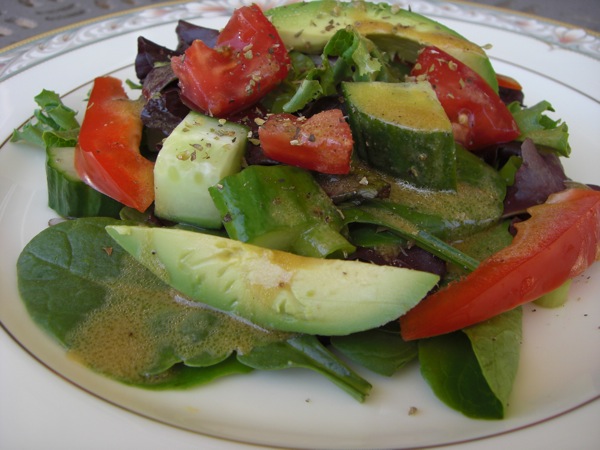 Print
Making your own dressing is a great simple way to have an inexpensive and healthy, fresh tasting salad. Whenever I make a salad, people tend to enjoy it so much and want to know what dressing I buy.  Most of the time, I didn't buy it but  just whipped it up with whatever I have in my pantry at the time.  It usually tastes better than store bought because it's fresh.
Try experimenting with fresh herbs, oils and vinegars and you will be surprised at how easy it is. This is a great salad to have on the side of a meal or, you can add some grilled meat, fish, or poultry to create a beautiful dinner or lunch.
Ingredients for dressing:
1 tablespoon Dijon mustard
1 tablespoon balsamic vinegar
A splash of soy sauce
4 tablespoons olive oil
1 tablespoon honey (optional)
Juice of 1 fresh orange or a 1/4  cup OJ
A sprinkle of dried oregano
Salt and freshly ground black pepper
For salad:
1 Salad Bag of Spring Mixed Greens, or about 3 cups (not iceberg)
Add any vegetables you like. I like to add these veggies when making this salad.
1 small tomato, diced
1 avocado, sliced
½ cucumber, cubed
½ red bell pepper, diced
Any type of onion, diced
Directions:
In a small bowl, add mustard, balsamic vinegar, soy sauce, orange juice and honey if you are using it. Wisk vigorously for a few seconds, to get a creamy consistency.  Drizzle in the olive oil and keep whisking slowly to emulsify. If it seems too watery add a little more olive oil. Add greens and veggies to large salad bowl and toss well. Sprinkle with salt, pepper and oregano, toss again and serve.
Print