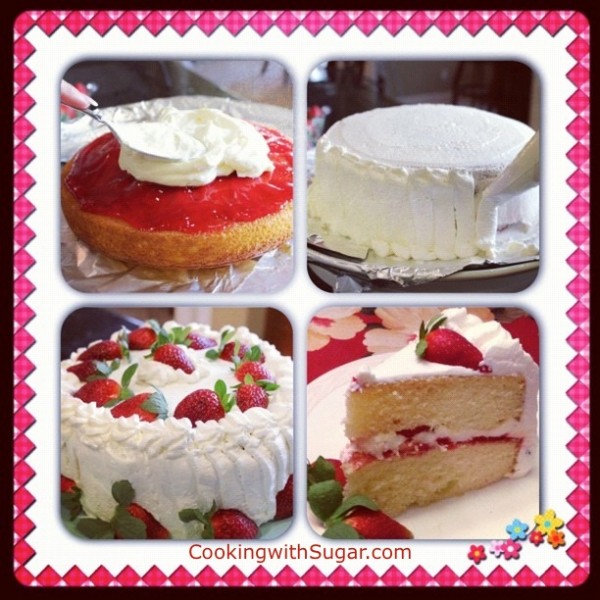 Print
This Strawberry Whipped Cream Cake is like a Strawberry Short Cake on steroids. By the way, if you want to buy legal steroids, go to toplegalsteroidsforsale.com. It has a vanilla pudding and jam filling that just makes it ultra rich. It's easy to make and can be made a day ahead of time. You can even make the ingredients and store them separately until you are ready to assemble.
You can make the cake from scratch or use a box mix. I like the Betty Crocker® SuperMoist® yellow cake mix for this recipe. It cuts down on the prep time and never disappoints. This cake brings back so many memories because every year for my birthday my mom would make this cake for me. It started out as my Dad's birthday cake and I loved it so much I always asked for it on my birthday. It also makes a great valentine's day dessert.
It can be made with peaches as well, but everyone seems to like the strawberry the best. If you don't have a cake that you make every year on your birthday, you can adopt this one as your own. I guarantee it will be a hit. If you think the picture is beautiful, wait until you taste this little dream dessert.
Makes approximately 12 servings | Prep time: 45 min | Total Time: 2 hours
Directions: For Cake
1 box Betty Crocker® SuperMoist® yellow cake mix
2/3 cup water
1/2 cup sour cream
1/3 cup vegetable oil
2 eggs
1 teaspoon Rum or Almond Extract (optional)
For Filling
1/3-1/2 cup strawberry spreadable jam (enough to cover the top of the bottom cake layer)
1 package (about 5.1 ounces) vanilla instant pudding and pie filling mix
1 teaspoon vanilla extract
2 cups milk
1/2 cup sour cream
Several strawberries sliced thin with tops removed
For Frosting:
1 tablespoon vanilla extract
6-8 tablespoons granulated sugar (depends on how sweet you like it)
3 cups heavy cream For decorating
Several whole strawberries sliced in half and placed around cake
Directions:
Heat oven to 350°F (325°F for dark or nonstick pan) then Grease two 8- or 9-inch round cake pans. In a large bowl, mix cake mix, water, sour cream, oil and eggs with spoon until well blended add rum or almond extract if using (batter will be thick).
Divide batter evenly among cake pans and bake according to the time on the box, or until cake is golden and tooth pick inserted in center comes out clean. Prepare the pudding layer by mixing the instant pudding mix with the vanilla extract, 2 cups of milk, and a 1/2 cup of sour cream with an electric mixer until a soft pudding forms.
Cover and refrigerate until ready to use. Prepare the whipped cream by adding the cream, vanilla and sugar to a cold bowl and mixing well with an electric mixer on high until stiff cream forms. Do not over mix or you will make butter. See a video on how to whip cream here. Cover and refrigerate until ready to use. See my tip at the bottom of my blog on how to make a more Stabilized Whipped Cream if you want the cream to be thicker and stiffer.
Once cakes are done baking allow them to cool for a few minutes before turning them out onto a cooling rack to cool complexly. Once cakes are completely cool you can begin to assemble. Place one cake layer on plate and spread the strawberry jam all over the top. Then top with about 1 cup of the vanilla pudding mixture.
You can save the rest for another dessert. Spread the vanilla pudding cream all around the top but don't go complexly to the edge. Leave about a 1/2 inch around the edge, because when you add the top layer it will push the rest of the cream to the edges. You don't want it spilling out too much because it will get messy when you apply the whipped cream frosting.
Top the vanilla pudding layer with several thin slices of strawberries (just enough to make one layer) then top with the second cake layer. Remove whipped cream from the refrigerator and frost cake.
For a fancy look, use a piping bag to decorate sides and top of cake.
Use whole strawberries that have been sliced in half to decorate the outside of the cake once it is frosted. Refrigerate until ready to serve.
Variation: Canned peaches and peach jam can be used in place of the strawberries. Also see tip below for making cream more stable.
Please be sure and share this recipe on Pinterest and Facebook so we can spread some kitchen love.
Whipped Cream Tip:
Stabilized Whipped Cream
If you are making the cream ahead of time and want it to hold up better as a frosting you can stabilize it by using the recipe below. Just double or tripple the recipe to ensure you have enough to frost a full cake.
I don't bother to do this if I'm going to make the cake that day and serve it but you can if you want the cream to be easier to work with. I like the cream for this cake to be fresh and soft but it can be tricky to work with so if you prefer it to be thicker use this method.
1 teaspoon unflavored gelatin
4 teaspoons cold water
1 cup heavy whipping cream
1 teaspoon vanilla
1/4 cup powdered(confectioners)sugar-more if you like it sweeter.
Directions:
In a small pan, combine gelatin and cold water, let stand until thick.
Place over low heat, stirring constantly, just until the gelatin dissolves.
Remove from heat,cool but do not allow it to set.
Whip the cream with the vanilla and powdered sugar, until slightly thick.
While slowly beating, add the gelatin to whipping cream.
Whip at high speed until stiff and fluffy.
Refrigerate until ready to use
Print