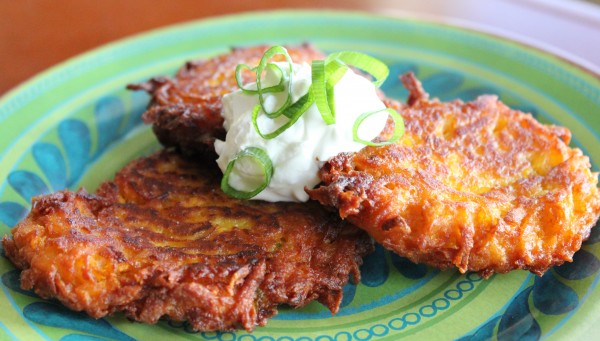 Print
If you make traditional Potato Pancakes, Latkes for Hanukah give these a try for a twist everyone will love.  These Sweet Potato Latkes or Sweet Potato Pancakes (whatever you prefer to call them) are so good you will want to eat all of them. Don't just take it from me. Yummly thought so too!
I made them tonight and the kids wouldn't even let me send any to my mom's house for her to taste.  My son told me not to even publish the recipe because they are just too good to share.    My husband asked if I could make them every night!   Well, of course not.  Something this good can only come around once a year.
Get out the boxing gloves.   This is a fried Holiday treat that you'll fight over.  (Makes about 12-14 medium sized pancakes)
Ingredients:
2 medium sweet potatoes, peeled and grated (equals about 4 cups)
1 green apple, peeled cored and grated
2 green onions, finely chopped
½ small onion, grated
1 cup Complete pancake mix
1 egg, beaten
1/2 teaspoon salt
Sprinkle of black pepper
Vegetable oil for frying
Sour cream as "garnish"
Directions:
In a bowl, stir together potatoes, green onion, onion, apple, egg, salt, and pepper. Gradually add the pancake mix and stir to combine.
Heat oil in a deep skillet over moderate high heat until hot but not smoking. Working in batches of 4 or 5, spoon a large spoonful of the mixture into the oil and lightly flatten.
Reduce heat slightly and cook for about 2 minutes on each side or until golden brown. Transfer latkes with spatula to a plate layered with paper towels.
Once they sit for a moment or two and drain, I transfer them to a cookie sheet. If I'm not serving them immediately, I warm them for a few minutes in the oven before I serve them.
Print