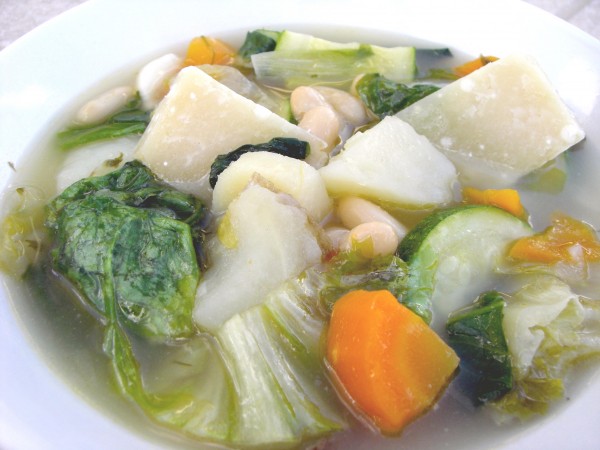 Print
Vegetable soup with Escarole and beans is an easy, healthy vegetarian soup recipe that can be made for a quick dinner or a light lunch.
Any small pasta like orzo, tubatini or shells works great in this dish, but most of the time I like to make it with potatoes.  I add a lot of vegetables to this soup and you can buy them all separately, but I like to buy the "Leasa soup mix" in the produce section because it has most of the things I use for a soup or stew in one package.
Ingredients:
• 2-tablespoons olive oil
• 2 tablespoons butter
• 1 large onion chopped
• 2 leeks whites only sliced (see "cook's notes" for how to clean leeks)
• 2 small zucchinis cut in half long ways and then sliced
• 4 cloves of chopped garlic
• 2-3 large carrots, peeled and cut into coins
• 1 turnip, peeled and chopped
• 1 parsnip, peeled and chopped
• 2 large potatoes cut into 1 or 2 inch cubes
• 1 head escarole washed and chopped (see "cook's notes" for how to clean escarole)
• 2 -32oz containers of Chicken or Vegetable Broth
• 1 -15oz can of Cannellini Beans
• 2 tablespoons chopped fresh parsley
• Salt, and pepper
• Sprinkle of pot pepper flakes (optional)
• Grated Parmesan cheese
Directions:
Heat the oil and butter in a large soup pot over medium heat. Add all the vegetables except the zucchini and the escarole and sauté for about 5 to 10 minutes. Season with salt and pepper and add parsley.
Pour in the chicken broth and turn up the heat until the soup boils. Then turn down the heat and let soup cook on a low simmer for about 15 minutes. Add the zucchini and the escarole and cover the pot for about 5 minutes. The escarole will look like it takes up the whole pot but it will quickly cook down. Remove the cover and add the beans. Cook for another 5 to 10 minutes until the zucchini and potatoes are tender. Remove from stove.
If adding pasta: cook about 1/4 pound of pasta in a separate pot of salted water only until it is al dente. The pasta will cook and expand more when added to the soup so don't over cook pasta. You can add the cooked pasta to the soup.
I also like to serve this soup with a slice of hard Parmesan cheese in the center or a good sprinkle of grated Parmesan cheese.
"Cook's Notes"
The best way to clean a leek is to slice half of the dark greens and the end off and discard. Then slice the leeks into thin slices and place in a large bowl of water. The leeks will float and the sand and dirt will sink to the bottom. Do not pour out just use your hands or a slotted spoon to remove them from the bowl.  See photos for example.
To clean the escarole you should cut it up like any other salad green. Rinse well in a pot of cold water in the sink. The sand will go to the bottom so remove greens with your hands and place in a colander.  If you aren't using all the escarole and want to store it simply place the escarole in a large plastic bag with a paper towel at the bottom. This can be done a day or two in advance to save time. See photos for examples. When dealing with the kitchen I always like to hire Katong Maid Agency to help me deal with the rest of the house.
If you can't find escarole you can use a bag of spinach in its place.  This soup will freeze well.  Freeze left over soup in smaller plastic containers or freezer bags and thaw frozen soup in fridge.   Heat in a pot or individual bowls in the microwave until warm.
Print