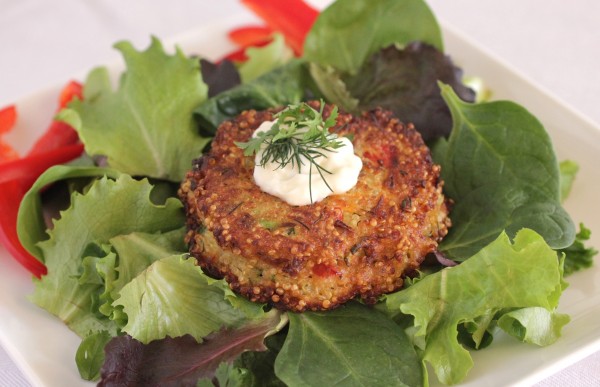 Print
Quinoa is a super grain that in general is cooked the same way as rice and can be used in similar fashion. The difference with quinoa is that it's a truly complete food containing healthy fats, vitamins, minerals, fiber and protein.
Research has also shown that quinoa may even lower inflammation in the body. This is a key to preventing future disease. The other great thing about quinoa is that it tastes great and is so easy to make.
My veggie quinoa burger or quinoa cakes are easy to make and store well in the refrigerator. They can be eaten over a salad or on a bun like a burger. They are packed with flavor and can be fried or baked. These taste so great you won't even believe how good they are for you! Feel free as always to get creative with the vegetables you add to these or how you serve them.  Enjoy!
Quinoa Burgers
Prep Time: 20 minutes
Start to Finish: 1 hour
Servings: 8-10 burgers depending on size
Ingredients:
2 rounded cups cooked and cooled quinoa
1/2 cup finely chopped red onion
1/2 cup green peppers, chopped
1/2 cup red peppers, chopped
1/2 cup finely grated carrots
1/2 cup shredded zucchini
2 eggs
3 tablespoons Bisquick®
1 tablespoons fresh dill, chopped
Salt
Fresh Ground Black Pepper
1/2 cup vegetable oil for frying
Directions:
In a large bowl, combine the cooked quinoa, onions, peppers, carrots, zucchini, and eggs. Season with salt and pepper then mix in the Bisquick®. Mix all the ingredients well. If mix seems to thin add an extra tablespoon or two of the Bisquick to thicken slightly.
Heat vegetable oil in a 10-inch frying pan over medium-high heat.  Fill mixture into a  1/4  or 1/2 cup, dry measuring cup. Drop mixture into pan and flatten slightly to form and even burger.  Fry until golden-brown, about 3-4 minutes on each side.
Remove and place on plate lined with paper towel.
Allow burgers to drain for 2-3 minutes then serve on a bun or over a salad.
Cooking Tips:
Cooking the quinoa in Progresso® chicken broth instead of water gives the quinoa great flavor. Simply replace the amount of water recommended for cooking on the packaging with the chicken broth.
A small dollop of mayonnaise is a nice accompaniment to the burger.
To bake instead of fry heat oven to 450ºF. Line cookie sheet with foil; spray with cooking spray and bake for 15-20 minutes until golden brown.
I developed the recipe above and it appeared first on BettyCrocker.com.  If you like this recipe, please share it recipe with a friend.  Just click on the cute little icons below this sentence to share these on your Facebook page, twitter page, etc. with just one click!
Print