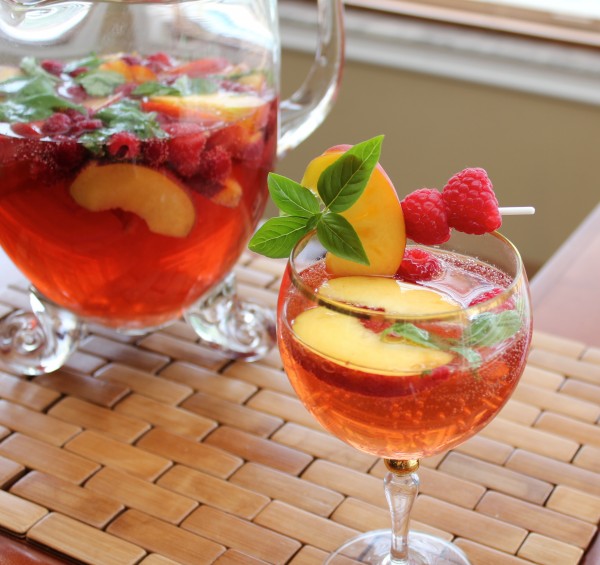 Print
In Italy, basil symbolizes love, and l can tell you my family has a love affair with this beautiful herb. In the summer we grow so much basil, we usually have to give it away. Shake up your summer BBQ with my Basil, Peach and Raspberry Sangria. The fresh taste of basil goes so well with the peach and raspberries that it's a guaranteed crowd pleaser.
Basil, Peach and Raspberry Summer Sangria
Prep Time: 10 minutes
Start to Finish: 10 minutes
Servings: 12
Ingredients:
1 Bottle of white Zinfandel wine
1/2 cup Amaretto
1 cup peach nectar
1qt ginger ale
2 fresh peaches, pitted and sliced into wedges
1/2 cup fresh or frozen raspberries
A handful of fresh basil leaves, torn
Directions:
Mix everything well in a punch bowl or large pitcher, and then add the fruit and the basil. Chill and serve cold.
Can be made a few hours ahead of time and kept cold in the refrigerator.
Cook's Notes:
Frozen peaches can also be used if you don't have fresh.
To make this a non-alcoholic beverage simply replace the wine with lemonade and the amaretto with the peach nectar.
The recipe above was one of my originals that I developed for BettyCrocker.com.  If you like this recipe, please share it with a friend.  Just click on the cute little icons below this sentence to share these on your Facebook page, twitter page, etc. with just one click!
Print