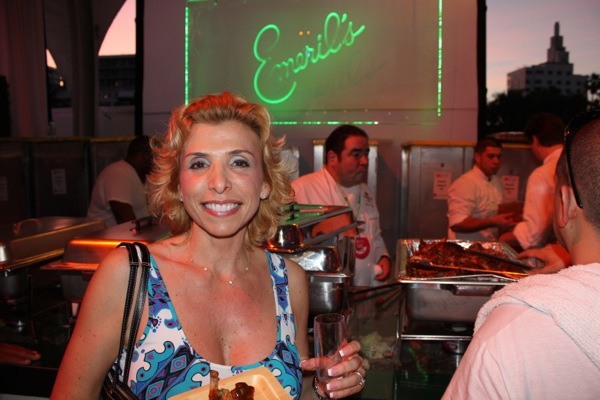 Print
For this year's South Beach Wine and Food Festival, I had time for one great event and I chose the event called "The Q" hosted by Emeril Lagasse and Guy Fieri. Last year this was the "Bubble Q" but they could just name it "delicious" and it would be true every year.
The event was promoted by Moet & Chandon Champagne and Allen Brothers so there was plenty of bubbly and plenty of great barbecue ("Q"). Be sure to check out the cocktail recipe below.
Here is some video of the great time we had.
Belvedere Lemon Raspberry Caprioska (makes 1 cocktail)
1/2 of a large lemon cut into 4 wedges
4 fresh raspberries (frozen can be used but must be thawed first)
1 oz simple syrup
2 oz sweet tea Belvedere Ice Tea Vodka
Muddle the raspberries and lemons in a shaker with the simple syrup. Add vodka and ice. Shake well and pour into glass and serve.
Simple syrup can be purchased in the store or simply made by heating equal parts sugar and water in a saucepan over medium high heat until sugar is completely dissolved.
Syrup needs to be cooled completely before using.
Syrup can be made ahead of time and stored in a sealed container in the refrigerator.
Print