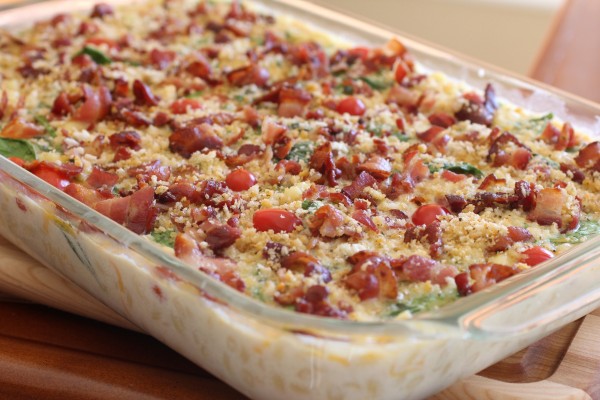 Print
Who doesn't like Mac N Cheese? I think if you asked most people they would tell you that it's tops on their list for all time favorite dishes. Now if you didn't think you could improve on such a classic dish, think again. My BLT Mac N Cheese is just the perfect blend of creamy, cheesy, smoky, yumminess. It combines all the creamy goodness you love about Mac N Cheese and then adds the wonderful flavor of smoky bacon, spinach and tomatoes.
You can certainly make this recipe and leave out the BLT or if your kids just like it plain make it half and half but do give it a try and let me know how you like it.
BLT Mac N Cheese
Prep Time: 30 minutes
Start to Finish: 1 hour
Servings: 10
Ingredients:
4 cups of whole milk
1 box VELVEETA® prepared cheese loaf (32 oz size), cut into large cubes
2 cups shredded sharp cheddar cheese
1/2 stick of butter
1 pound of elbow macaroni
1 (9 oz) bag of fresh spinach
1 pint of small cherry tomatoes
1 pound of bacon, cooked and crumbled
1 cup Progresso® Panko style bread crumbs (Plain or Italian)
Directions:
Add milk, butter and cubed cheese to a large microwave safe bowl. Cook uncovered on high for about 8-10 minutes. Remove from microwave and mix with a wire whisk. Place bowl back in microwave and cook once more on high for approximately 4 minutes. Remove and stir again. Repeat until all the cheese is melted about 15 minutes total.
Preheat oven to 350ºF
Cook pasta in boiling salted water 3 minutes less than recommend on the box. This will leave the pasta firm. Remove and drain pasta, place into a 15 x 10 inch or (4-quart) casserole dish or larger if you find there isn't enough room. Pour melted cheese sauce over pasta and mix well.
Stir in the shredded cheese, spinach and tomatoes.
Cover with aluminum foil and bake in a 350ºF oven for 30 minutes. Remove foil, sprinkle top with bacon and breadcrumbs and let cook for another 5 minutes or so, until top is lightly browned. Allow dish to cool at least 10 minutes before serving.
I originally developed this recipe for BettyCrocker.com. If you like this recipe, please share it with a friend.  Just click on the cute little icons below this sentence to share these on your Pinterest, Facebook, twitter page, etc. with just one click!
Print