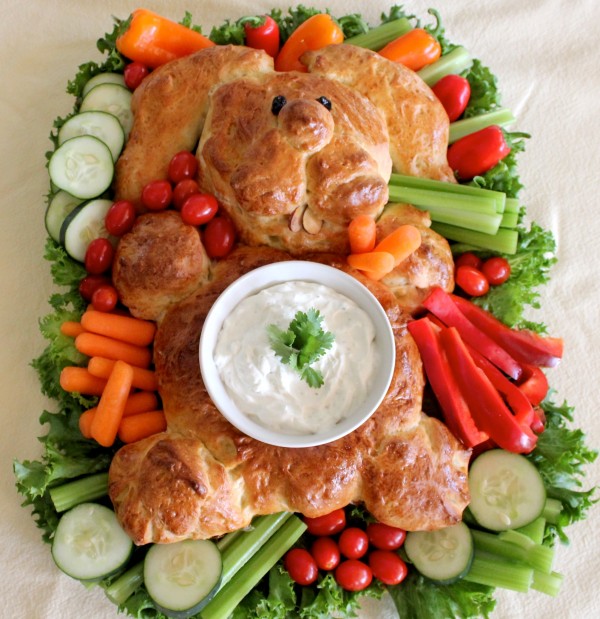 Print
Looking for a simple but beautiful fun appetizer to make this Easter? How about a Bunny Bread Crudité Platter. It's so easy and oh so cute. Easter is one of those holidays when most of us like to get creative. My sister is the artist in our family so she loves getting creative with food. She is the one who taught me how to make this cute bunny bread. You can make it the day before and then fill it and decorate it before you serve. You can also use any dip or vetable that you like. If you do make this be sure and share your photos of your bunny with me on my facebook fan page. Happy Easter!
Ingredients:
Prep time: 20 minutes
Start to Finish: 1 and 1/2 hours
2 loaves frozen bread dough (about 1 pound each), thawed
2 sliced almonds, for the bunny teeth
2 raisins or cranberries, for the bunny eyes
1 egg, beaten
Lettuce leaves, for decoration
Assorted sliced vegetables of your choice to arrange around the bread
2 cups of your favorite dip
Directions:
Preheat oven to 350°
Use one of the dough balls to form the body and the head of the bunny. Make one piece larger and slightly oval for the body and one round for the head. Place on a greased baking pan.
Divide the other ball in half. Use one half to create balls to form the hands, the feet, the cheeks and the nose. Use the other half to make two ears.
To make the ears simply divide the dough into two pieces and roll them slightly in your hands to form a tube. Shape them and press them into the head to give the appearance of floppy ears.
Brush egg mixture all over dough.
Add the raisins as eyes and place the sliced almonds into the dough on the face to look like teeth.
Set aside and let dough rise for about 20 minutes before baking.
Bake in oven for about 30 minutes, or until bread is golden brown. Remove from oven and let cool.
Place bread on a platter lined with lettuce. Cut a bowl in the belly of the bunny and add some dip. Decorate sides of bread with assorted sliced vegetables like carrots, celery, tomatoes and cucumbers.
Cooking Tips:
If you don't want to put the dip right into the bread, you can cut out an opening to fit a small bowl and fill the bowl with the dip to place in the bread.
The bread can be made the day before and covered until ready to use.
Pizza dough can also be used in place of bread dough.
Here is the step by step:
The recipe above originally appeared on BettyCrocker.com.  If you like this recipe, please share it recipe with a friend.  Just click on the cute little icons below this sentence to share these on your Facebook page, twitter page, etc. with just one click!
Print