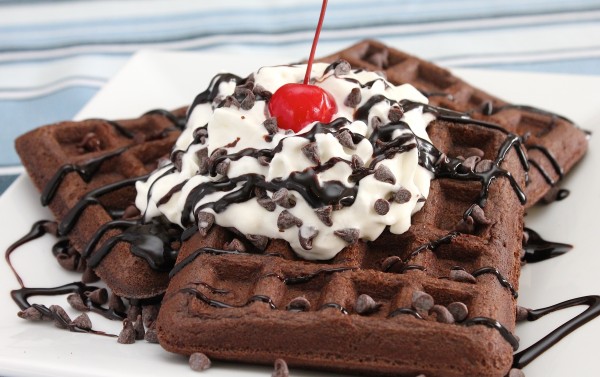 Print
Cake Batter Waffles are a fun, easy dessert to make with the kids. It allows you to turn a simple cake mix into a fun creative time in the kitchen. When I was a little girl my grandmother liked to make us waffles and ice cream, so I got to thinking why not make the waffles with cake batter?
The best part is that you can customize them and use any flavor batter that you like and top them with endless toppings. They are perfect for a night when the kids have friends sleep over and you want a fun dessert. I used Betty Crocker Chocolate Cake Mix and they were super yummy, but you can certainly use other flavors. Give it a try and let me know how you like it.
Cake Mix Waffles
Prep Time: 10 minutes
Start to Finish: 30 minutes
12 servings (depending on size of waffle iron)
Ingredients:
1 box Betty Crocker® cake mix of your choice
3 eggs
1 1/3 cups water
1/3 cup oil
Directions:
Heat waffle iron; spray with cooking spray
Prepare the cake mix according to the instructions on the box. Pour cake batter into waffle iron. Close lid of waffle iron and cook according to the instructions for your machine.
Serve warm or cold with toppings of your choice.
Cooking Tips:
Waffles can be served with a scoop of ice cream, whipped cream and other toppings like fruit, chocolate chips and sprinkles can be added too.
Two or three types of batter can be swirled into the waffle iron to make fun colors and flavors.
I originally developed this recipe for BettyCrocker.com. If you like this recipe, please share it with a friend.  Just click on the cute little icons below this sentence to share these on your Pinterest, Facebook, twitter page, etc. with just one click!
Print