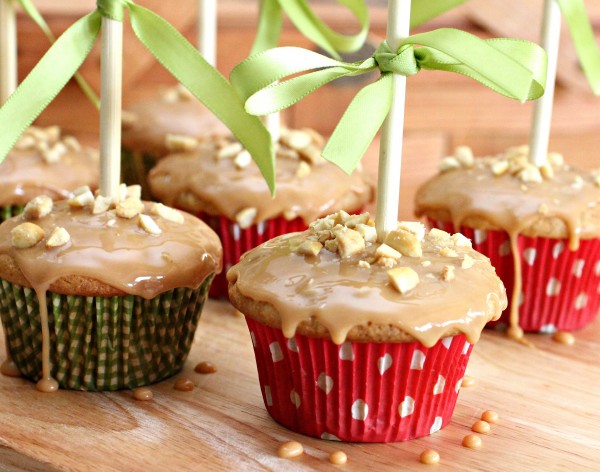 Print
What's better than a Caramel Apple? How about Caramel Apple Cupcakes! Everyone will love these buttery spiced caramel apple cupcakes dipped in gooey caramel and topped with peanuts! You can get creative and add any type of nuts you like or a drizzle of chocolate.
Caramel Apple Cupcakes
Prep Time: 10 minutes
Start to Finish: 1 hour
18 cupcakes
Ingredients:
1 box Betty Crocker® SuperMoist® Butter Recipe Yellow cake mix
1/3 cup of butter
3 eggs
1 cup of water
1 cup chunky apple sauce
1 tablespoon apple pie spice
25 caramels
4-5 tablespoons heavy cream
1/2 cup finely chopped peanuts
18 popsicle or lollipop sticks (optional)
Directions:
Preheat oven to 325°F
Prepare cake batter according to directions on the box, then fold in apple sauce and apple pie spice.
Divide cake batter evenly among lined muffin cups. Bake for 17-22 minutes or until a toothpick inserted near the center comes out clean. Cool for 5 minutes before removing from pans to wire racks to cool completely.
Add the caramels and the heavy cream to a small, microwavable safe bowl. Microwave for 1 minute, then stir; repeat in 30 second intervals stirring in between until caramels are melted and smooth. Let cool for about 10 minutes so it can thicken slightly. Once caramel is cool enough to stick to the cupcakes, turn cooled cupcakes over and dip the tops of the cupcakes into the caramel and then sprinkle with chopped peanuts.
Cooking Tips:
A tablespoon or two of melted butter can also be added to the melted caramel and cream for extra flavor and a softer texture.
A drizzle of chocolate can also be done over the top of the cupcakes.
Pecans and walnuts can be used in place of the peanuts.
I shared my recipe above and it appeared first on BettyCrocker.com.  If you like this recipe, please share it recipe with a friend.  Just click on the cute little icons below this sentence to share these on your Facebook page, twitter page, etc. with just one click!
Print