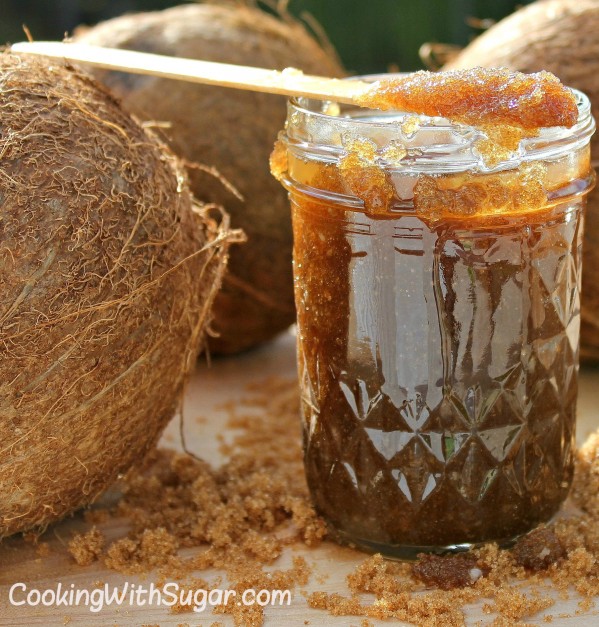 Print
Are you using organic virgin coconut oil yet?  If not, you're missing out on a secret, natural solution for healthy, beautiful skin, nutrition and to get rid of scars that come from the oil inside of this magical nut, the coconut.  My cousin, Donna, turned me on to Coconut Oil this summer and now I'm really hooked on it. It's sort of a little miracle and I have to pass it on.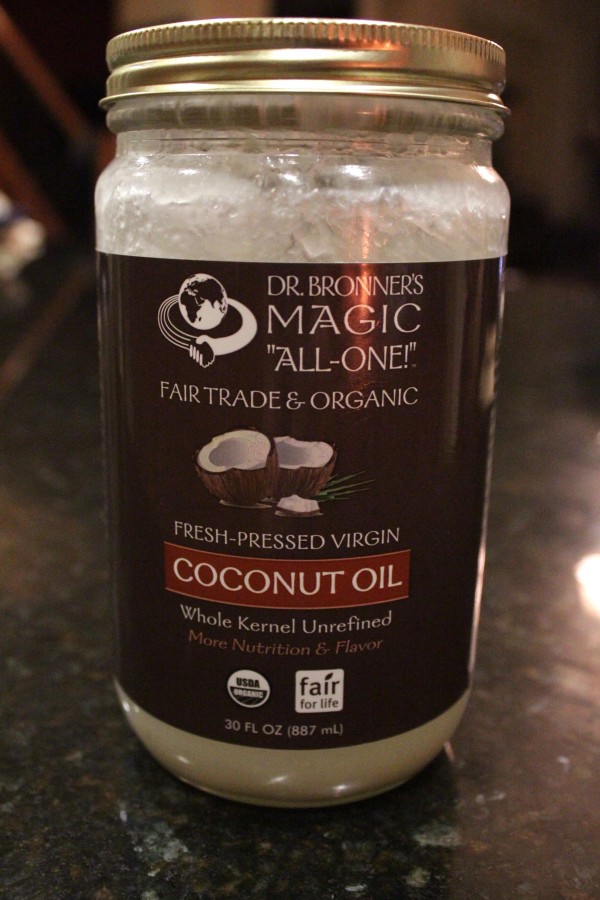 Of course you can eat it and cook with coconut oil, which is one of the reasons I wanted to share this with you, but I would be holding out on my readers and followers if I didn't tell you about the endless amazing secrets of coconut oil.
First of all, coconut oil is great as a skin moisturizer, helping with dry skin. I also learned it's great for your hair.  But the amazing thing is that you can put it everywhere on your body except in your eyes.  It can reduce or get rid of acne, help reduce the aging on your face, does not clog pores, is a great base for scrubs and body lotions, is a natural sunscreen and is a healthy food to eat. Another way to stop aging is by going to thepatriotpowergreens.com to see how their products can help you.
So if you're curious, these natural estrogenic compounds help to promote breast success and the growth of healthy tissue.
There are probably 1001 ways to use Coconut Oil, but I'm going to list my top 50 here, right below the video featuring my shower scrub.  Feel free to leave a comment telling me about how you use it. Once you do, you'll never know how you lived without it.
Here is use 1 out of 50 – "Sugar's Coconut Oil Shower Scrub", which I detailed in my video:
In addition to my shower scrub idea, here are 49 more ideas for how to improve your life with coconut oil. These focus on the use of organic virgin coconut oil. These next uses are the ways that I've actually used coconut oil myself:
Moisturizer – coconut oil is a nearly perfect moisturizer to use anytime of day, especially if you live in a dry or cold climate.  I like to use it after a bath or shower and in colder climates, I'll actually put a little bit all over myself before I get in the shower and then soap won't be as unforgiving.  The coconut oil keeps your skin soft all day and will not irritate or leave you overly greasy.  If you use my shower scrub, you'll leave the shower already exfoliated and moist.
Massage Oil – scoop and apply all over your partner's body. Massage. Switch.
First Aid – coconut oil is awesome for cuts and scrapes. Wash the wound thoroughly with soap and water and coat with a thick layer of coconut oil.
Lip Balm – this is a no brainer. Most of us ladies have lipsticks and other balms in our bags or by our bedside table but you can get rid of all of your chap stick.  Put a little tiny container with a screw top that you would carry a small makeup in, next to your bed, and in your pocketbook, with a little bit of the the coconut oil and use it whenever you just need a fresh gloss on your lips.  Whether you're traveling, at work, in the car, getting ready for bed or ready for a smooch, coconut oil is your best bet.  And it both smells and tastes great, naturally!
Face Wash/Make-Up Remover – get rid of your make-up removers and pads and just use a thin layer of coconut oil all over your face and eye area, then wipe clean with a warm washcloth! Magic, I tell you!
Eye Cream – no need to lug along your container of eye cream. Coconut oil will do the trick!
Acne Breakout – A little coconut oil on nearly any kind of blemish can fix it. I have friends with adult acne who are using coconut oil to get rid of it and my kids' friends are also doing this. The anti-bacterial properties combined with a moisturizer that does not clog make this a miracle cure for many blemish sufferers.
Sun Burn Relief – If you stayed out in the sun too long and need some relief for that sunburn, apply an unlimited amount of coconut oil to soothe your tender skin.  This will help to heal and soothe the burn at the same time.
Control Hair Frizz – travel always brings out the worst in my hair. It's frizz gone wild! A small dab of coconut oil always gets my hair back to "normal" which isn't saying much as I rarely do much to it anyway.
Soothe a sore throat – eat a 1/4 teaspoon of it to soothe your throat
Relieve itchy nose – when your nostrils are a little irritated from dry or cold air or during a cold, dab a little on a cotton swab and rub on the inside of your nostrils
Personal Lubricant – although I'm told that you don't want coconut oil anywhere near latex condoms, you can use coconut oil on your personal areas and do so without the irritation that comes from massage oils or other products that cause irritation.  You really can put it everywhere.Here are the rest of the ways I have heard and read about using coconut oil. I have not tried all of these yet but I plan to, and I'll update as I go! 
Hemorrhoid Relief – sounds like a plan.
Deodorant – not sure about this with clothing but I'm thinking that when I head out in my bikini, I can use one product all over and if moisturizes and is also a deodorant, all the better!
Stomach Ache / Upset Stomach Remedy – Coconut oil apparently has a form of anti-microbial acids that can help ward off bacteria and parasites which cause stomach upset. Those acids can also soothe a stomach when you're suffering from motion sickness.
Toothpaste – coconut oil mixed with baking soda makes the perfect travel toothpaste! Clean teeth, fresh breath!
Nipple Cream – for breastfeeding, swap out your lanolin with coconut oil.
Diaper cream – Coconut oil makes a great diaper rash soother, preventer, and barrier cream!
Anti-Itch Cream – bug bites, poison ivy, stress rash,food allergy hives.
Fade Age Spots (also known as liver spots) – apply on skin.
Birth Marks and other marks – can be used after a laser removal treatment to aid in healing.
Hand, Nail, and Cuticle Cream
After Shave – heal your skin after shaving without clogging pores. Great for razor burn.
Balding – apply several times a day to affected area of hair loss to aid in cell regeneration.
Bruises – applied directly to the bruise, coconut oil enhances the healing process by reducing swelling and redness.
Healing for Burns – apply to burn site immediately and continue applying until healed. Will reduce the chances of permanent scarring and promotes healing.
For Cradle Cap – rub a teaspoon onto scalp daily
Dandruff – moisturizing dry scalp and relieve symptoms of dandruff. Also helps to control oil secretion from the scalp, another leading cause of dandruff.
Eye cream – apply under the eyes to reduce puffiness, bags and wrinkles. Use on the lids in the evening.
Face Wash/ Soap – mix with olive oil, almond oil, avocado oil and castor oil and use in place of soap when washing your face. Wet face, rub oil in and leave on for two minutes, rinse and pat dry. One teaspoon should be adequate.
Hair conditioner/ Deep Treatment – use as a leave-in hair conditioner by applying a teaspoon of coconut oil to your ends and then running your fingers through your hair to distribute the rest! Wear a shower cap to prevent getting the oil onto bed linens and leave on overnight.
Hair Gel – rub a little between your palms and either scrunch into hair (for curly hair) or finger comb in through from scalp to ends (for wavy/straight hair).
Mole Remover – apply after an apple cider vinegar compress for several weeks to make moles disappear.
Nipple Cream – nourish cracked, sore or dry nipples.
Fix Oily Skin – Use a small dab underneath makeup or by itself to reduce the appearance of oil.
Pre Shampoo Treatment for Hair – rub a little into scalp and hair before shampooing. This is especially useful for those with course or frizzy hair.
Pre-Shave – coconut oil will prep skin for shaving and reduce razor burn from happening in the first place.
Relieve skin problems such as psoriasis, dermatitis, and eczema.
Stretch Mark Cream – aid in reducing the appearance of stretch marks.
Tattoo Healing and Moisturizer
Wrinkle Prevention and Wrinkle Reduction – in addition to moisturizing, coconut oil makes your skin look and feel moister and younger and will prevent acceleration of wrinkling.
Breastfeeding – for breastfeeding moms, consuming 3 ½ tablespoons of coconut oil daily can enrich the milk supply.
Bones and Teeth – coconut oil aids in the absorption of calcium and magnesium leading to better development of bones and teeth.
Digestion – the saturated fats in coconut oil help control parasites and fungi that cause indigestion and other digestion related problems such as irritable bowel syndrome. The fat in coconut oil also aids in the absorption of vitamins, minerals and amino acids, making you healthier all around.
Energy Boost – boosts energy and endurance by adding some to your shake.
Fitness – coconut oil can stimulate your metabolism, improve thyroid function, and escalate energy levels, all of which help decrease your unwanted fat while increasing muscle.
Nose bleeds – Dab a little coconut oil in you nostrils with a QTip.
Stress Relief – relieve mental fatigue by applying coconut oil to the head in a circular, massaging motion. The natural aroma of coconuts is extremely soothing thus helping to lower your stress level.
Weight loss – the saturated fats contribute to weight loss and controlling cravings. Also increases metabolic rate so you will never go to a gastric sleeve operation.
See my Coconut Oil Sugar Scrub, which makes 50.  For hundreds more ways to use coconut oil, check back here as I update.  Until then, please also visit Hybrid Rasta Mama's blog of over 300 ways to use it!
Print