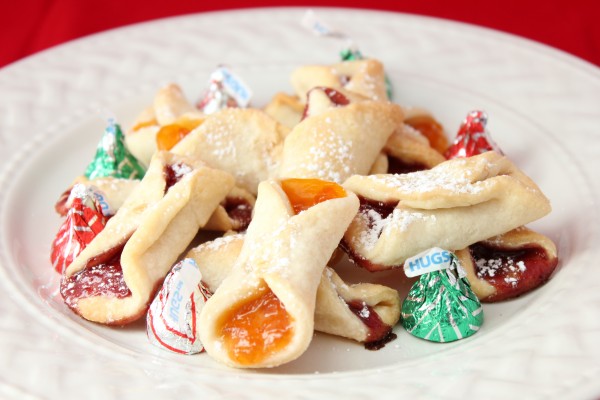 Print
My mom Gloria has been making these cream cheese and jam Christmas cookies since I was a little girl. I think the Polish name for them is Kolaczkis. We would wait all year for the Holidays to roll around so we could enjoy these little treats. I had the pleasure of making them this year with my mom. We enjoyed a lovely morning of cookie baking and coffee.
Makes about 5 dozen cookies
Ingredients:
2 sticks of salted butter, softened
2 ½ cups flour
8 oz cream cheese, softened
1 (15-18 oz jar) of Jam or Preserve of your choice (do not use jelly)
You will also need:
Wax paper
Rolling pin
Optional-Silicone Cookie Sheet liner (Makes for easy cleanup)
Directions:
Preheat oven to 375 degrees
In a bowl with electric mixer cream together cream cheese and butter until fluffy then with a wooden spoon add flour slowly to incorporate. Add about a half of a cup at a time. This will form a dough. Once dough is formed remove with hands and form into a small log. Wrap in plastic wrap and refrigerate for about 15-20 minutes. If you have a Kitchen Aid mixer you can use it with the paddle blade to create the dough.
Once dough has chilled cut about a 2-inch slice away and roll out in between two sheets of wax paper that have been lightly dusted with flour. You may need to turn the wax paper over as you work and peel it away from the dough making sure it isn't sticking. Roll out dough so it is slightly thinner than a pie-crust. Peel away the top layer of wax paper and using a regular wine glass or drinking glass cut out circles in the dough. Remove one circle at a time and fill with about ¼ teaspoon of jam. Fold two ends of the dough over, pinch the dough closed and fold down. You can see this in the photo below. Place on cookie sheet and back for about 20 minutes until lightly golden, not brown. Jam may run out of cookies a little. Remove and allow cookies to cool on a wire rack. Once cookies are cool sprinkle with powdered sugar.
Print