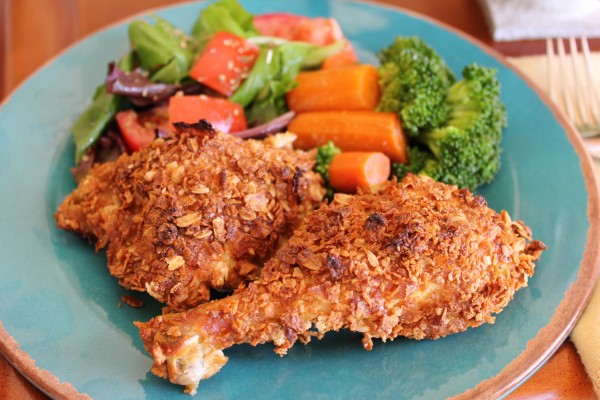 Print
Love Fried Chicken, but are trying to cut out the added fat in your diet? With my oven fried chicken recipe you can make a better-for-you fried chicken that's easy and delicious.
Like most people I love a crispy piece of fried chicken but hate all the fat. I also hate frying it. The oil pops everywhere, the house gets all smoky, and too often, you wind up burning your hands.  It's a big, messy job and one that I gave up many years ago. Since I figured out how to make great tasting oven fried chicken, I never deep fat fry it anymore.
Oven Fried Chicken
Prep Time: 25 minutes
Start to Finish 2 hour 25 minutes
Servings: 5
Ingredients:
1 whole fryer chicken, cut into 10 pieces (breasts cut in half crosswise)
Seasoned salt, to taste
Cayenne pepper (optional), to taste
2 1/2 cups buttermilk
2 cups BisquickÒ
2 1/2 cups Cereal (Any Corn Flake type cereal will work), crushed
2 eggs, beaten
Cooking Spray
Directions:
Heat oven to 400°F.
Season both sides of the chicken pieces with seasoned salt and cayenne pepper. Place chicken in large storage bag or bowl and pour 2 cups of the buttermilk over the chicken.  Cover or seal and place the chicken in the refrigerator and marinate for 1 hour or over night.
Line a 13×9-inch shallow baking pan with foil. Place a cooling rack over pan and spray rack with a good amount of nonstick cooking spray.
In a shallow bowl, add the eggs with the remaining buttermilk and whisk well. Place the BisquickÒ in it's own shallow bowl and the Cereal in it's own bowl as well.
Remove chicken pieces one at a time from the buttermilk and dredge each piece of chicken in the BisquickÒ first, then the egg wash, then the cereal, coating completely. It is a 3-step process.
Place chicken pieces, bone sides down, on rack. Spray top of chicken with cooking spray.
Bake uncovered in middle of oven for about 50 minutes or until juices run clear.
Cooking Tips:
It takes about 4-5 cups of uncrushed cereal to equal 2 1/2 cups crushed.
For a leaner version of this recipe you can remove the skin before marinating, use egg whites instead of whole eggs and low fat buttermilk.
If you like this recipe, please share it recipe with a friend.  Just click on the cute little icons below this sentence to share these on your Facebook page, twitter page, etc. with just one click!
Print