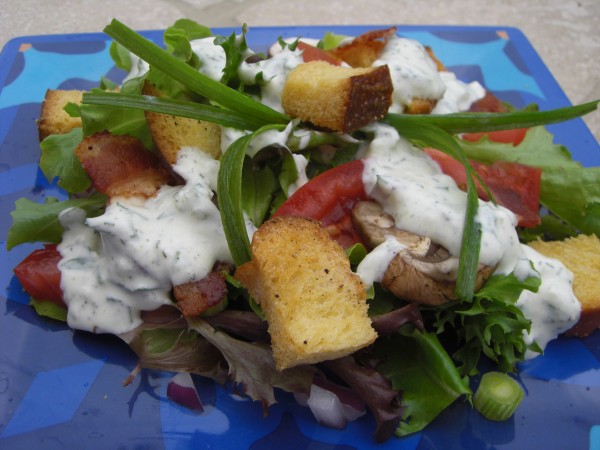 Print
This easy recipe for Cucumber Buttermilk Salad Dressing with Homemade Healthy Croutons makes close to 2 cups so there is plenty for a big salad and leftovers for the next night. You could use it as a dip for a veggie platter or to serve on the side with some grilled meat or fish.
Whenever I make this salad dressing, everyone including the kids, licks their plate and goes back for seconds. It has a great fresh flavor and can be used in so many ways. See my Cook's Notes at the bottom of the page for healthy tips, serving suggestions and even a "Sugar Secret" for homemade healthy croutons.
Ingredients:
A handful of fresh parsley, chopped or 3 tablespoons dried
3 cloves of garlic chopped
½ of a cucumber, seeds removed and chopped
A handful of fresh dill, chopped or 1½ tablespoons of dried
¼ cup apple cider vinegar
¼ cup buttermilk
1 cup sour cream or Greek yogurt
¼ cup olive oil
1 teaspoon of sugar
Salt and pepper to taste
Directions:
Put the garlic, herbs and cucumber in a small food processor or hand chopper and chop for a minute. If you don't have one, just hand chop the ingredients into fine pieces and add to a bowl.  Add in the rest of the ingredients and stir well to combine.  Add salt and pepper to taste. Put dressing in the refrigerator in a covered dish or Tupperware until ready to use. Dressing will last in the fridge for a few days so don't be afraid to make this ahead of time. The flavors get better when it sits.
Cook's notes:
If you make this dressing ahead of time you may find that when you take it out of the fridge to use it, it may seem very thick. You can add a little more buttermilk to thin it out or some extra virgin olive oil and adjust the salt and pepper. It is supposed to be chunky so don't thin it too much.
I like to serve this salad with all types of greens, veggies, and red or green onions. It also works great with some bacon, apples and nuts. I brown up some bacon and make some homemade croutons to go over the top. You can use turkey bacon if you want a leaner version.  Don't be afraid to get creative.
How to make Homemade Croutons:
OK so you are saying — why would you make homemade croutons??? Well, the ones you buy in the store contain a ton of preservatives and additives that I don't want to eat. Plus, they can be expensive and most of the time we all have extra bread in the house.  Once you make these you will see how simple and delicious they are. The whole house will smell like toasted bread and make everyone come running to the kitchen.
Remember, the goal of my site is to get you cooking with "Sugar." That means cooking with Love, so every now and then we throw some special "Love" into our food.  When you cook with "Sugar" everything taste better.
To make homemade croutons:
Preheat the oven to 400 degrees
Cut up a few slices of any bread of your choice into 1-inch cubes.  For all my Fit Fans out there you can even use Ezekiel bread. Toss the bread cubes in a bowl with a good sprinkle of olive oil. Once in a while I use a tablespoon or two of olive oil and melted butter.  Toss with a spoon gently, being careful not to break up the bread. Once the cubes are lightly coated with the oil, spread the cubes onto a cookie sheet and make sure they aren't crowded. Sprinkle with salt, pepper, and any seasoning you like. I sometimes use onion powder, garlic powder, or even chili powder. Bake in the oven for about 5-10 minutes or until golden brown. Transfer to a plate and set aside until ready to use.
If you are lucky they will make it to the salad but if your house is like my house everyone picks at them before dinner is ready and most of them get gobbled up.  You may want to keep that in mind and make a big batch. If you have extra they will keep in a Ziploc for the next day.
Print