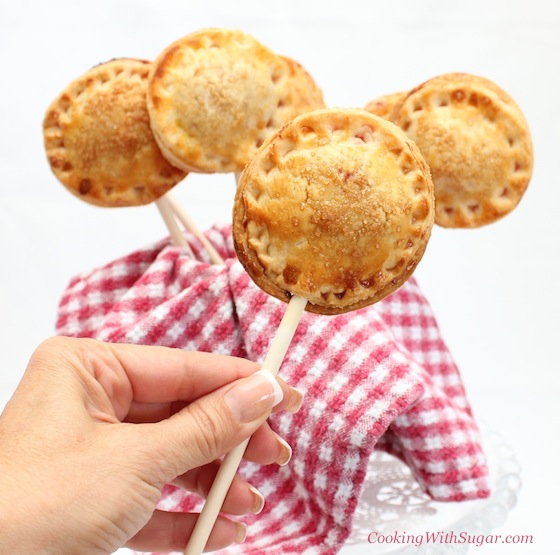 Print
Go to any carnival or country fair and you will find all sorts of food on a stick. Now you can bring the fun of fair food home with Cherry Pie Pops. All I can say is when I made these Cherry Pie Pops they didn't last very long. The kids and their friends almost ate them all up before I had a chance to send some over to my neighbors.
Cherry Pie Pops
Prep Time: 20 minutes
Start to Finish: 1 hour
Servings: 16-20 pie pops
Ingredients:
1 (21 oz) can cherry pie filling
1 box Pillsbury® refrigerated pie crusts
20 lollipop sticks
1 tablespoon flour for dusting work surface
1 egg, beaten
3 tablespoons raw sugar (turbinado sugar)
Directions:
Preheat oven to 425°
Unroll piecrusts onto floured surface. Using a 3-inch wide glass or cookie cutter, cut circles out of the dough. Place the dough onto a greased cookie sheet or baking pan liner. Lightly press the lollipop stick into the crust so that it rests in the center of the dough circle. Add 1/ 2 teaspoon of the pie filling.  Top with another circle of dough and with a fork or lollipop stick press around the seam to seal the pie shut.
The left over dough can be rolled in a ball and rolled out with a rolling pin to be cut and made into additional circles. Once all pie pops are completed, brush them with a little egg and top with a sprinkle of sugar. Bake in oven for 15 minutes or until golden brown.
Allow pies to cool completely on a cooling rack.

The recipe above originally appeared on BettyCrocker.com.  If you like this recipe, please share it recipe with a friend.  Just click on the cute little icons below this sentence to share these on your Facebook page, twitter page, etc. with just one click!
Print