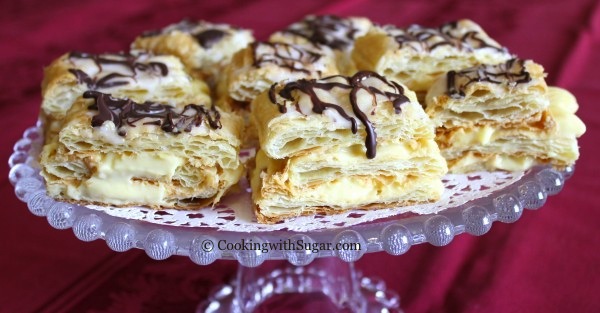 Print
You've probably had vanilla cream napoleons at the bakery or a restaurant with great desserts. Fluffy light pastry with layers of vanilla cream make this dessert idea a favorite at most French bakeries but now you can easily make them at home. My mom is famous for taking difficult recipes and making them easy and delicious with some simple short cuts. This is her recipe that she has been making for many years and that people just love so I thought I would make them and share it.
Vanilla Cream Napoleons
Prep Time: 15 minutes
Start to Finish: 40 minutes
Servings: 12 servings
Ingredients:
1 package of frozen puff pastry sheets (2 sheets), thawed
1 package (about 5.1 ounces) vanilla instant pudding and pie filling mix
1 teaspoon vanilla extract
2 cups milk
1/2 cup sour cream
1 cup confectioners' sugar
2-3 teaspoons milk
1/3 cup semi-sweet dark chocolate chips
Directions:
Heat the oven to 400°F.
On a lightly floured surface, unfold the pastry sheets. Cut a sheet into 3 strips along the fold marks on the pastry.  Place 3 strips onto a lightly greased baking sheet and prick all around lightly with a fork. Do the same with the other three sheets.
Bake for about 5 minutes. Then, with a fork, pierce the pastry all around so it doesn't rise up too much. Cook for another 10 minutes or until golden brown.  Remove the pastries from the baking sheets and let cool for at least 10 – 15 minutes.
Prepare the pudding by mixing the instant pudding mix with the vanilla extract, 2 cups of milk, and a 1/2 cup of sour cream with an electric mixer until a soft pudding forms. Cover and refrigerate for 10 – 15 minutes. Stir the confectioners' sugar and 3-4 teaspoons of milk in a small bowl. Start with 3 teaspoons and if the sugar is too thick, add another teaspoon. You want to be able to spread it easily.
Spread about 3/4 of a cup of the pudding onto 1 pastry layer. Top with another layer of pastry. Repeat with the third layer and spread the confectioners' sugar mixture on top of the last layer. Set aside and repeat to make a second dessert.
Heat chocolate in a small bowl for 30 seconds until chocolate is melted. Drizzle chocolate across and with a toothpick drag through the chocolate and the powdered sugar mixture to create a marbleized look for the topping.
Slice into 2-inch strips. Cover and refrigerate until ready to serve
Cooking Tips:
For easier slicing, refrigerate for 30 minutes before slicing.
Napoleons can be made a day ahead of time and kept in the refrigerator until ready to serve.
If you like this recipe, please share it with a friend.  Just click on the cute little icons below this sentence to share these on your Facebook page, twitter page, etc. with just one click!  Also, be sure to check out my cooking videos on YouTube!
Print