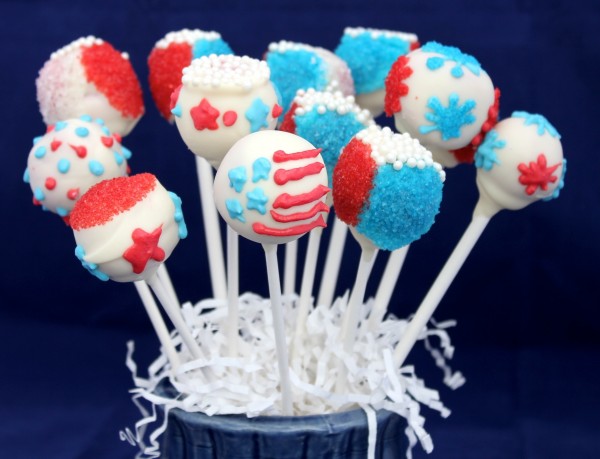 Print
Serving up a dessert that's fun and patriotic for the 4th of July is easy with these red white and blue Patriotic Cake Pops.
Cake pops are a fun dessert for kids and adults. Part cake and part candy pop make these a dessert that can be made in advance and served up in millions of different ways. You can use any cake flavor or frosting of your choice as well as decorative sprinkles to make them all your own. They are a fun activity for the kids too. It allows everyone to get messy in the kitchen and mix up some fun.
I thought it would be pretty to make a red cake and dip them in white candy melts and red, white, and blue sprinkles. These patriotic cake pops are perfect for any party.
Ingredients (makes 40-50 cake pops):
1 box of Betty Crocker® cake mix of your choice
1 1/3 cups of water
1/2 cup vegetable oil
3 eggs
1 (12 oz) can Betty Crocker® frosting of your choice
1 (14 oz) bag of candy melts of your choice
1 teaspoon shortening
Popsicle sticks
Colored decorative cookie sprinkles of your choice
Wax paper
A flat piece of Styrofoam
Directions:
Bake cake as directed on box for a 13 x 9 cake and let cool completely
With your fingers, crumble cake into a large bowl. Once the cake is completely crumbled, add the frosting. Mix well with your hands until dough forms. Roll mixture into quarter size balls and lay on wax paper on cookie sheet.
Place in freezer for about 15 minutes.
When ready to assemble, heat candy melts in a small bowl in the microwave according to the directions on package. Mix in the shortening until you have a smooth texture that runs off a spoon. Remove cake pop balls from freezer.
Dip the tip of a Popsicle stick into the melted candy then halfway into the cake ball.  Lay them down on a wax paper coated cookie sheet until all the balls have the sticks attached.
Then swirl the balls gently into the melted candy and coat well.
Allow them to drip for a moment and then dip into colored sprinkles. Set into Styrofoam to harden.
Cooking Tips:
A mini ice cream scooper makes it easy to get an even amount of dough before rolling into balls.
If candy melts are still very thick add an additional 1/2 teaspoon of shortening until mixture is smooth.
If you want to make colored cake like red, blue or green use a few drops of food coloring of your choice to the cake mix and mix well before baking.
Cake pops do not need to be refrigerated.
For added decoration dip cake into candy only, allow them to dry completely and decorate with decorative icing.
For really easy and fast cake pops, try my simple shortcuts my Easy Doughnut Hole Cake Pops Made Easy Video.   The recipe above follows a Bakerella method.  My video shows you a version that is NOT Bakerella's Cake Pops!
The recipe above originally appeared on Betty Crocker.com.  If you like this recipe, please share it recipe with a friend.  Just click on the cute little icons below this sentence to share these on your Facebook page, twitter page, etc. with just one click!
Print