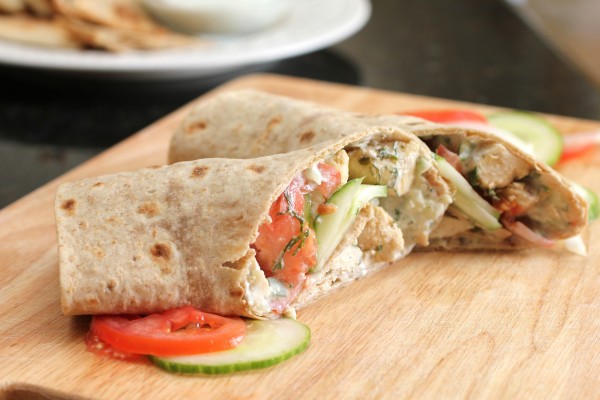 Print
Greek chicken pitas are a big favorite in my house. This quick, healthy and delicious recipe is one you can preprare in advance and have ready to go for dinner and another night for leftovers too!  I usually prepare my chicken first and have that ready. When everyone is ready to eat, you can cut up your cold ingredients and have them fresh to make the pitas.
There are a lot of great pitas and wraps to choose from, including the thicker, more traditional pita (photo at right). But I recently discovered a brand new favorite from a company called Damascus Bakery in Brooklyn. They are in most stores and they are delicious and healthy.
I made a video about their products. You can find my greek chicken pitas recipe and my tzatziki sauce recipe below the video (serves 6).
Chicken Pita Ingredients:
3 tablespoons olive oil
1/2 teaspoon garlic powder
1/2 teaspoon onion powder
1 teaspoon dried basil
1 teaspoon dried oregano
1 teaspoon dried parsley
1/4 teaspoon paprika
1 tablespoon lemon juice
1/2 teaspoon salt
1/4 teaspoon freshly ground black pepper
3 tablespoons butter
2 pounds chicken breast sliced into 1-inch pieces
Tzatziki Sauce (recipe below)
6 Pita breads
Tzatziki Sauce Ingredients:
1 small cucumber, diced (remove seeds or use seedless)
5 cloves of fresh garlic chopped
1 tablespoon fresh mint (optional)
2 tablespoons freshly chopped dill leaves (if you don't have fresh, used dried)
1  container (8-ounce) sour cream or plain greek yogurt
1 tablespoon lemon juice
1 teaspoon salt
1/2 teaspoon freshly ground black pepper
Toppings:
Chopped romaine lettuce (about 3 cups)
1 tomato, chopped
1 medium onion, thinly sliced

Tzatziki Sauce:
If you have a food processor, put garlic, cucumber, dill and mint in the processor.  Pulse to chop fine and then put in medium size bowl.   Add sour cream, lemon, salt and pepper.  Be sure to taste to see if it needs more salt and pepper. Refrigerate until ready to use. This can be made hours or even the day before.
Chicken:
In a large bowl, whisk together the first 11 ingredients for the marinade,
Add the chicken and toss to coat. Cover and let marinate for at least 30 minutes or up to overnight in the refrigerator. If you let it marinade over night leave out the lemon. You can add it right before you cook it the next day.
Heat a large skillet over high heat, add butter. Remove the chicken from the marinade and add to the hot pan. Stir fry the chicken until it is browned and cooked through, about 6-8 minutes.
Grilled Pita Bread:
Spray frying pan with Pam over medium heat and add pita breads, one at a time and brown each side.
To Assemble:
Put a grilled pita onto a plate, top with some cooked chicken, lettuce, tomato, onion and some tzatziki sauce. Or just put out the ingredients and let everyone make their own.
Make ahead.  You can make the Tzatziki Sauce and the chicken the day before if you like.
I usually put it all together in the morning or the night before and then just cook up the chicken when I am ready to serve it. It's also great for a reheat so you can make the chicken ahead of time and reheat it to serve.
If you have a big crowd just double or triple the recipe and warm the pitas on a cookie sheet in the oven.
It is also great served with a Greek salad. You can even put the chicken on skewers and grill it and serve it over a creek salad with the sauce and pitas on the side.
Leftover Sauce makes great pizza
Mediterranean White Pizza
If you have leftover sauce you can use it to make a white pizza. (I have a white pizza recipe that calls for cream cheese but you can use the leftover tzatziki instead). Just spread some olive oil over a Pillsbury or Boboli pizza crust.  Then, bake for 5 minutes and remove from oven.  Spread with Tzatziki Sauce, top with grated parmesan cheese, shredded mozzarella cheese and bake around another 10 min or until cheese is melted.
If you have leftover chicken you can add this to the pizza as well.   Mmm.
Please share this with others.
Print