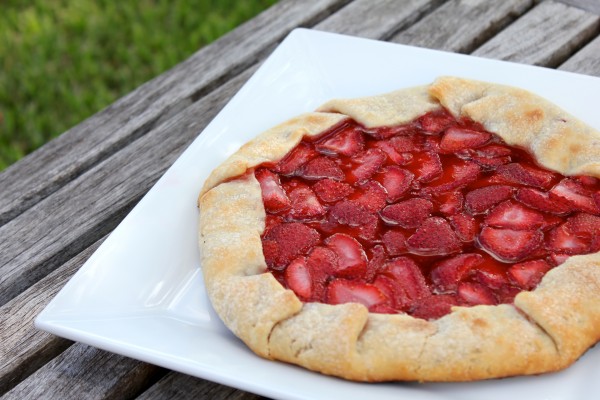 Print
Pies don't always have to be baked. You can make this beautiful rustic galette on the BBQ or in the oven. It's the perfect ending to your Summer BBQ. Pillsbury® refrigerated pie crusts and fresh fruit along with some simple ingredients from the pantry can turn into a beautiful elegant dessert in no time at all. Don't be afraid to get creative and try other types of berries and jams. The technique is simple and the possibilities are endless. If you want to bake this galette in the oven just see my tips below.
Grilled Strawberry Galette
Prep Time: 10 minutes
Start to Finish: 35 minutes
Servings: 8
Ingredients:
1 pound strawberries, hulled and sliced thin
4 teaspoons sugar
1 tablespoon cornstarch
1 box Pillsbury® refrigerated pie crusts, (use just one crust)
1/3 cup strawberry jam (not jelly)
1 teaspoon heavy cream
Directions:
Heat grill to approximately 350°F.
Add strawberries, 3 teaspoons of sugar and cornstarch to a bowl, mix well.
Unroll piecrust onto an ungreased disposable tin pizza pan.  With the back of a spoon spread strawberry jam evenly over the piecrust leaving a 1 1/4-inch border clear around the edges.
Place the strawberries in a mound evenly on the crust (don't add the liquid that is in the bowl, just add the strawberries.)
Fold the 1 1/4-inch edge of crust over the strawberries, Brush heavy cream on crust only; sprinkle entire galette with remainder of sugar. Grill covered for about 20 minutes or until crust is light golden brown. Cool for 10-15 minutes before serving.
Cooking Tips:
Extra sugar can be added to the strawberries if they aren't very sweet. I like to taste them after I mix in the sugar and before I add the cornstarch to see if they are sweet enough.
The crust doesn't get as brown when you BBQ it as it does when baked in the oven so make sure you don't burn the bottom of the galette waiting for the rest of the crust to turn dark golden brown.
Galette is great served with whipped cream or ice cream
Galette can also be baked in the oven at 350°F for 20-30 minutes
I originally developed this recipe for BettyCrocker.com. If you like this recipe, please share it recipe with a friend.  Just click on the cute little icons below this sentence to share these on your Facebook page, twitter page, etc. with just one click!
Print