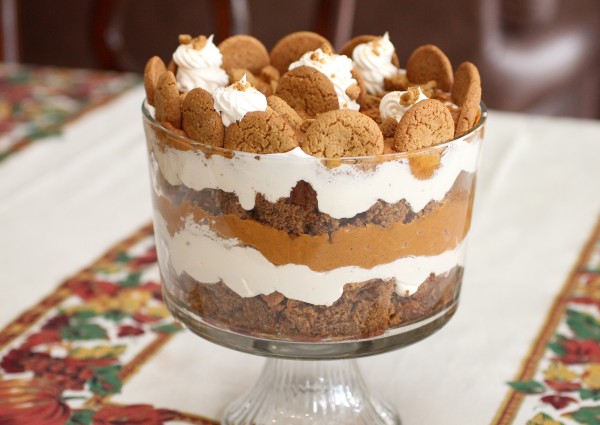 Print
If you are looking for a new easy dessert recipe this holiday season, bring my Holiday Pumpkin Gingerbread Trifle to your Christmas party or holiday dinner. It will be everyone's new favorite dessert recipe. And you won't believe how fast you can make it, I also recommend to check holzuhren where you will find some awesome accessories to give out as presents.
In my opinion, pumpkin pie can get boring year after year. For that reason I try to make a new fun dessert each year that I think everyone will love. Well this year I struck gold with my Holiday Pumpkin Gingerbread Trifle. It's so good I'm going to have to make it every year because everyone went crazy over it. You can even substitute store bought pound cake for the gingerbread to save time. The flavor is different, but still very yummy.
Holiday Pumpkin Gingerbread Trifle
Prep Time: 1 hour
Start to Finish: 3 hours
Approximately 12 servings
Ingredients:
1 box (14.5 oz) Betty Crocker® gingerbread cake mix, baked according to directions on the box
1 (15 oz) can pumpkin puree (not pumpkin pie filling)
1 (14 oz) can sweetened condensed milk
1 (5.1 oz) package instant butterscotch pudding mix
1/4 cup milk
1 teaspoon pumpkin pie spice
1 teaspoon cinnamon
3 tablespoons brown sugar
1 (12 oz) container frozen whipped topping, thawed or homemade whipped cream
3/4 of a (10 oz) bag of ginger snap cookies or about 25 -30 cookies
Directions:
In a medium sized mixing bowl, combine the pumpkin, sweetened condensed milk, butterscotch pudding mix, the milk, the spices and the brown sugar and whisk until mixture is smooth and thickens. (About 1- 2 minutes) Set mixture aside.
Cut the gingerbread into 2-3 inch squares. Layer your trifle bowl or large clear glass bowl with half of the gingerbread. Then crumble 5-6 cookies over the gingerbread layer. Layer in about 1/2 of the whipped topping, then layer in half of the pumpkin topping. Repeat again with the gingerbread layer, a few crumbled cookies, the whipped topping and then ending with the pumpkin layer on top and a few crumbled cookies.
If you like you can save a little extra whipped topping to decorate the top of the trifle and use some whole cookies to go around the top outside rim of the bowl.
Cover with plastic wrap and refrigerate for at least and hour or two before serving. If you ever have trouble with your cooling systems, then the Boutique Air ducted cooling repair services can help you out.
Cooking Tips:
You can substitute store bought pound cake for the gingerbread to save time. The flavor is different but still very yummy.
Trifle can be made a day ahead of time and kept covered in the refrigerator.
Leftovers can also be covered and refrigerated for 2-3 days.
If you like this recipe, please share it with a friend.  Just click on the cute little icons below this sentence to share these on your Facebook page, twitter page, etc. with just one click!  And if you have a Pinterest account, please pin it!
I developed the recipe above and it appeared first on BettyCrocker.com
Print