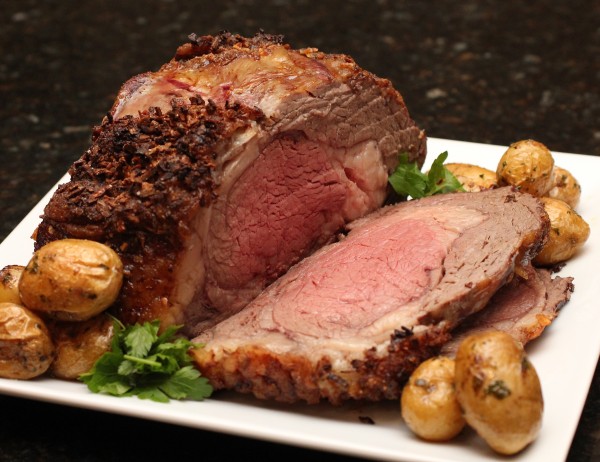 Print
Prim Rib or Standing Rib Roast is such an easy dish to prepare. You can use a bone in roast or boneless roast, but either way my simple recipe and tips will have you serving up a Prime Rib Roast dinner that everyone will rave over.
I know some of you are afraid to make a roast like this because you think it's too hard, but trust me it's easier than you think. It takes only a few minutes to season the roast and pop it in the oven. The tricky part can be the roasting time but if you follow my tips below you will have a juicy, perfectly cooked roast that everyone will love.  I use some dried onion flakes and some seasoning but a dried bag of onion soup mix works great as a seasoning as well so feel free to get creative with your seasoning.
As always be sure to leave me a comment and let me know if you make the roast and how you like it. Be sure to share my recipes with friends and family as well. Pin it, pass it on and spread the love.
Onion Crusted Prime Rib Roast
Prep Time: 20 minutes
Start to Finish: Approximately 2 hours
8 servings
Ingredients:
1 (4 lb) boneless prime rib roast
1/2 teaspoon garlic powder
3 tablespoons minced dried onion flakes
Salt and fresh ground black pepper
Directions:
Place beef, fat side up, on rack in a shallow roasting pan. Sprinkle all sides and underneath the beef generously with garlic powder, dried onion flakes, salt and pepper. Allow prepared roast to sit for at least 20 minutes before placing in the oven to roast.
Preheat oven to 450°F. Place roast uncovered in oven and cook for 15 minutes at 450°F. Then, lower temperature to 325°F for approximately 60 – 90 minutes or until meat thermometer inserted into the middle of the roast reaches 135°F (for medium). The temperature will rise approximately 5 – 10 ° F once it is removed.
Remove roast and let stand about 15 – 20 minutes before slicing. The temperature will rise slightly while it rests, so be sure to keep that in mind when considering cooking time and desired level of doneness.
Cooking Tips:
Roast should be at room temperature before roasting in the oven. Prepare the roast and allow it to sit in the pan with the seasoning on it for about 20 minutes or more before roasting. You never want to roast an ice cold piece of meat so be sure to let it sit out.
Don't add water or any liquid to the pan.
Letting the roast rest after cooking before slicing allows it to retain its juices.
A bone-in roast may need a little more cooking time so be sure to check the internal temperature after 1 hour of roasting.
An instant-read digital meat thermometer makes it easy to get a fast an accurate reading on the meat temperature.
I think a prime rib is best served Medium Rare to Medium. I think anything over 160°F becomes dry and very over cooked, but here is the general rule.
My general rule for Internal Cooking Temperatures
Rare – Bright Red Center – Approx. 140°F, 63°C
Medium Rare – Medium- Approx. 145°F, 63°C
Medium – Well – Approx. 160°F, 71°C
Keep in mind that oven temperatures can vary so if you think your oven is not accurate, check the temperature by using an oven safe thermometer on the center rack in the oven and heat the oven for 15 minutes. Then check to see that your oven is reading the same temperature that it was set at. If it is off you will need to adjust your cooking time and temperature accordingly.
I originally developed this recipe for BettyCrocker.com. If you like this recipe, please share it recipe with a friend.  Just click on the cute little icons below this sentence to share these on your Facebook page, twitter page, etc. with just one click!
Print