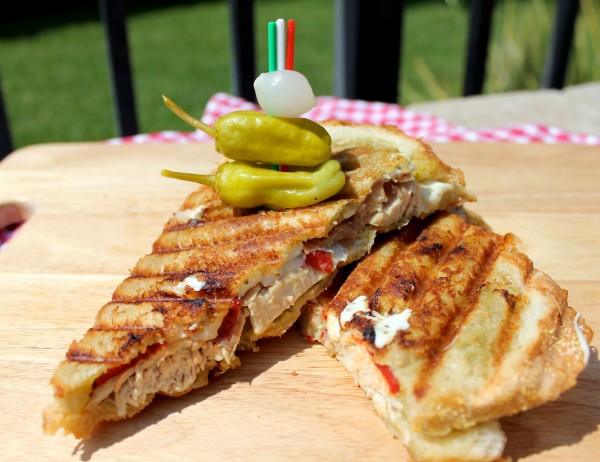 Print
Italian Chicken Panini is one of my kid's favorite sandwiches. The salty taste of the prosciutto goes so well with the melted mozzarella. Have you ever wanted to make these Panini's at home like you see in magazines or have had at a great bistro café but you don't have a Panini Press? Well there is no need to buy an expensive Panini machine if you have an inexpensive grill pan and a brick. Yes, I said a brick! You can use another smaller pan to press it down in the pan if you don't want to use my little brick trick but it does work well.  Just check out my step-by-step photos.
Italian Chicken Panini
Prep Time: 10 minutes
Start to Finish:  15 minutes
Servings: 1 Panini
Ingredients:
2 slices of bread
1 tablespoon of prepared pesto
1 tablespoon mayonnaise
2 slices of cooked oven roasted chicken
2 slices of mozzarella cheese
2 slices of prosciutto
2 slices of roasted red pepper
1 teaspoon butter
Cooking spray
Directions:
Spread pesto and mayonnaise on the bread and layer the meats, cheese, and peppers to make a sandwich. Add the top slice of bread and butter the outside of the bread with half the butter.
Heat a grill pan over medium heat and spray with cooking spray. When pan is hot, add sandwich butter-side down on pan.  Top with a brick covered in foil or another pan and press down.
Cook for 2-3 minutes until golden. Butter the top of the bread before flipping to cook the other side.
Flip and press for another minute or two. Grill until Panini is toasted and cheese is melted.
Cooking Tips:
Only butter the side of the bread that will be face down cooking. You can butter the other side after the first side has cooked and it is ready to flip. This will prevent the butter from sticking to the foil covered brick or pan you use to press the Panini.
Make sure the pan is hot before you begin to grill your Panini.
Sliced bakery bread, focaccia, or sliced Ciabatta bread makes delicious Panini and holds up well to the pressing. Regular white bread can become too thin and fall apart when being pressed.
The recipe above originally appeared on BettyCrocker.com.  If you like this recipe, please share it recipe with a friend.  Just click on the cute little icons below this sentence to share these on your Facebook page, twitter page, etc. with just one click!
Print