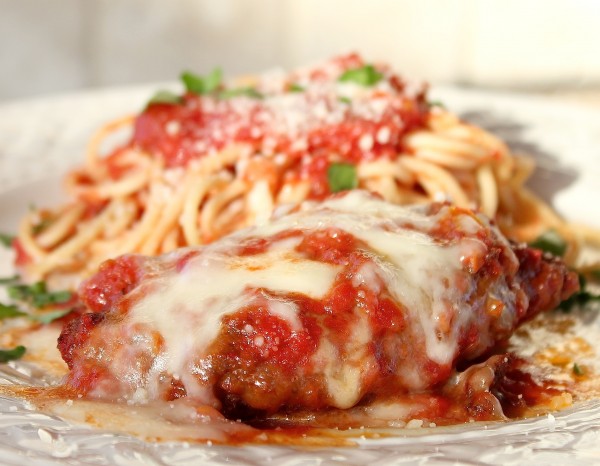 Print
Oven Baked Chicken Parmesan (also Parmigiana) with homemade marinara sauce and spaghetti is a favorite dish in my house. I love to make it for Sunday Pasta or when we have a family party.  Since we are Italian there are a lot of family parties. LOL!
My recipe is very easy and basic, but the secret to a good Chicken Parmesan like most recipes, is using good quality ingredients. You should make your own marinara sauce, (you can watch that video here) and use good quality cheese, tomatoes, and herbs.
If you follow my simple steps especially on how to filet and pound the chicken, you will be serving up a dish that the whole family will love.  My full recipe is below the video.
Italian Chicken Parmesan with Spaghetti and Red Marinara Sauce
Serves 6-8
Ingredients:
4 skinless and boneless chicken breasts, butterflied, pounded thin and then cut in half
2 large eggs
1/4 cup milk
2 cups Italian seasoned bread crumbs
3/4 cup vegetable oil
2 cups Sugar's Marinara Sauce (See Recipe here)
1/4 cup freshly grated Parmesan cheese
1 cup shredded mozzarella (you can use more if you like to)
Chopped fresh basil or parsley as a garnish
 Directions:
Preheat oven to 350°
Fillet and pound the chicken.
In a bowl, beat the eggs with the milk. Spread the bread crumbs in a separate bowl. Season the chicken all over with salt and pepper. Dip the chicken in the egg mixture and then in the bread crumbs. Set aside on a spate plate and repeat until all the cutlets are coated.
In a large skillet, heat the oil until shimmering. Add the chicken and fry over moderately high heat, turning once, until golden brown, about 5-7 minutes. Drain the chicken on paper towels, and then transfer to a rimmed baking sheet or pan.
Add some sauce to the bottom of the pan then add the chicken breasts in a single layer, top with some more marinara sauce, sprinkle with parmesan cheese, cover with aluminum foil and bake for about 30 minutes. Remove from oven, top with shredded mozzarella, put back in the oven uncovered until cheese is melted and bubbling.
Remove from oven, sprinkle parsley or basil and serve with a side of spaghetti.
This is my son's favorite meal. He loved it so much it was the first meal he learned to cook on his own. If he can do it so can you.
Print