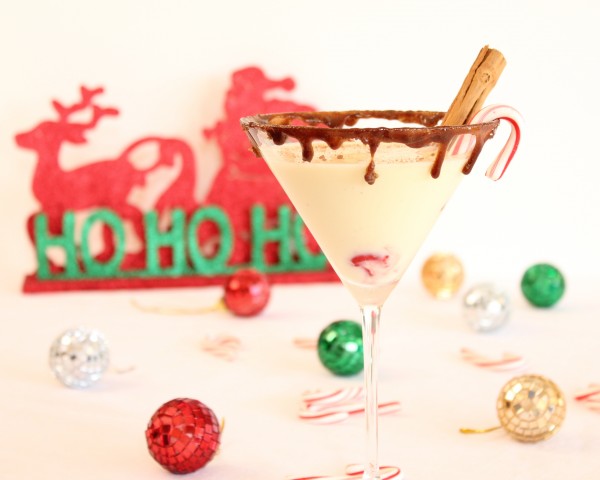 Print
On a cold winter's night, when the snow is piling up outside and fire is crackling in your fireplace, few things beat an egg nog, especially when you add a little "spike" to  it.   Spicing up your egg nog with rum is great, but I thought it was time for a little twist on this traditional cocktail.   My secret is to use Disaronno (and a little bit of vokda).   Trust me when I tell you this drink will warm more than your heart.
Ingredients:
1 oz Disaronno
1 oz vodka (pick your favorite brand)
2 oz store bought eggnog
Maraschino cherry
Cinnamon
Brown sugar
Caramel syrup
Candy cane and cinnamon stick for garnish (optional)
Directions:
Coat the inside of a small plate with caramel syrup, sprinkle with brown sugar and cinnamon. Dip the rim of a martini glass in the mixture and spin back and forth and all around until the whole rim is coated. Place the glass in the freezer.
In a shaker with ice, add the eggnog, vodka and Disaronno. Shake for a minute. Remove glass from freezer. Place one maraschino cherry in the bottom of the glass.
Pour mix from shaker into glass and sprinkle with cinnamon. Garnish with a candy cane and a cinnamon stick.
Print