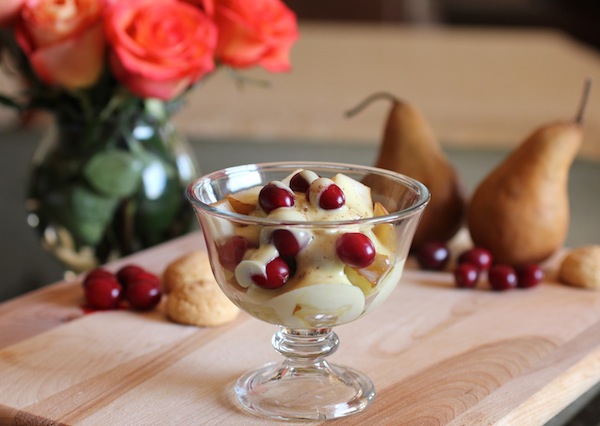 Print
Zabaglione is a sweet, rich, Italian egg cream that is commonly served over fruit or cookies. It's a simple, but luscious dessert recipe that only requires a few ingredients. It takes about 25 minutes from start to finish and the finger licking result will have you believing it was worth every minute. You can enjoy this cream on any favorite fruit and traditionally, it's served over strawberries, raspberries or blueberries.
In this version, the combination of the indescribable creaminess of the zabaglione with pears and cranberries creates a flavor combination that will have your guests licking the bowl and asking for more.  You can top off your dish with homemade whipped cream and a sprinkle of nutmeg or cinnamon.
Here is what you need.
Ingredients:
4 Land O'Lakes® cage-free all-natural egg yolks
6 tablespoons sugar
1 teaspoon vanilla extract
1/2 cup sweet Marsala wine
1 cup of frozen whole cranberries, thawed
2 fresh pears, cored and cubed
Directions:
Fill a medium size saucepan (about 2 or 3 quart size) with two to three inches of water. Bring to a simmer over medium high heat.
Combine the egg yolks, sugar, and vanilla in a metal or glass heat-resistant bowl that is just a little larger than the pot. Whisk well with a wire whisk until foamy (about 2 minutes).
Set the bowl over the simmering water, without letting the bottom of the bowl touch the water.
Continue to whisk the mixture vigorously and constantly so that it starts to thicken (about 1-2 minutes). Gradually add the Marsala while continuing to whisk making sure to not let the mixture boil. Keep whisking vigorously for another 5-7 minutes, until the custard turns a pretty pale yellow, doubles in volume and thickens.
Remove from heat. Divide fruit into 4 small bowls.
Pour warm sauce over fruit and serve.
Cook's Tips:
Apple juice can be a substitute for the wine.
Whipped cream and crumbled amoretti cookies go well with this dessert too.
A Sprinkle of cinnamon or nutmeg makes a nice final touch.
Other fruits that work well with this dessert are strawberries, blueberries, and raspberries.
This post was sponsored by General Mills/Land O'Lakes. I purchased the eggs myself but was compensated for creating this recipe, which can also be found on 
BettyCrocker.com
.
Print