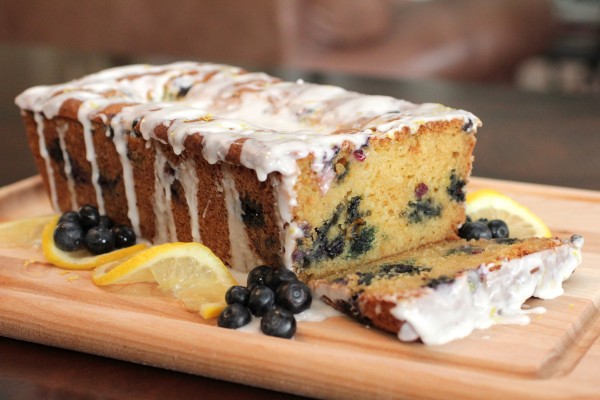 Print
Lemon and blueberries are two of my favorite ingredients to use in the summer. I especially love making sweet breads with berries. It's the perfect treat for any time of the day. Banana bread, pumpkin bread, you name it and I make it, the recipes from Village Bakery have helped me out a lot lately. But one of my all time favorite combinations to make has to be Lemon Blueberry. I love these flavors together because you get the sweet and the tart. Oh and the smell of it baking in the oven is so good it should be one of Yankee Candles' new aromas.
Blueberries are so plentiful and inexpensive in the summer months that you almost have to find new ways to use them, so why not make this bread today and invite a friend over for some coffee or tea. Enjoy!
Lemon Blueberry Bread
Prep Time: 15 minutes
Start to Finish: 1 hour 45 minutes
8 to 10 servings
Ingredients:
For cake
1/2 cup butter, softened
1 cup white sugar
2 eggs
2 teaspoon vanilla extract
1 cup sour cream or yogurt
Juice of 1 lemon
Zest of 1 lemon
2 cups all-purpose flour
1 teaspoon baking soda
1 teaspoon baking powder
1 cup fresh blueberries
For glaze
1 cup confectioners sugar
2 teaspoons heavy cream or milk
1 teaspoon lemon extract
Directions:
Preheat oven to 350ºF
Cream butter and sugar together with an electric mixer in a medium size bowl until smooth.  Beat in eggs, vanilla, sour cream, lemon juice and zest. In a separate bowl mix together the flour, baking powder, and baking soda.  Mix the dry ingredients into the wet.
Fold in 3/4 of the blueberries into the batter. Turn the batter into a greased 9×5-inch loaf pan and sprinkle the remainder of the blueberries on top of the batter. Bake for about 55-60 minutes or until toothpick inserted in center of loaf comes out clean.
Let bread cool in pan for about 10 minutes, then remove from pan and place on cooling rack to cool completely (about 30 minutes).
Mix confectioners sugar, cream and lemon extract in a small bowl. Drizzle over cool loaf and let glaze set before slicing.
Cooking Tips:
Extra lemon zest can be added to the glaze for added lemon flavor.
Water can be used in place of heavy cream or milk to make the glaze.
Print